How to Appreciate Macarons in Paris
By Viator, July 2014
They may be fashion-forward and effortlessly chic, but Parisians still have a notoriously sweet tooth and you won't have to walk far in Paris to find a café or patisserie. Of course, even the confectionary in Paris is sophisticated—crescent-shaped croissants served with rich hot chocolate, artfully folded crepes dusted with sugar and of course, towers of rainbow-colored macarons oozing with buttercream or ganache. The light, cream-filled cookies have been the favored treat of Parisians for centuries, and the city's time-honored recipes have been recreated around the world—a delicate blend of almond flour, powdered sugar and egg whites, adapted to a vast variety of colors and flavors.
Munching through a platter of macarons is a quintessentially Parisian pastime, but to fully appreciate the local delicacy, make a beeline for the city's top patisseries. Take a Paris food walking tour and discover the gourmet patisseries of the Saint-Germain-des-Prés district, where you'll find the famous Pierre Hermé, nicknamed "the Picasso of Pastry;" Gérard Mulot, known for his signature Muscovado macaron; and Arnaud Larher, the "Star of Montmartre."
You can even enjoy a behind-the-scenes experience with a pastry chef, learning the fine art of macaron- and chocolate-making, and watching in awe as the head pastry chef and master chocolatier make 18 different flavors of macarons and whip up decadent chocolate ganache. Of course, nothing beats the chance to make your own macarons, so uncover the secrets of flavor with an expert-led pastry class, where you'll learn to craft the iconic double-decker macarons in flavors like chocolate, raspberry, coconut and coffee.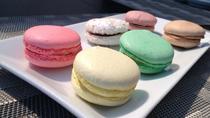 58 Reviews
Take some time out from your Paris sightseeing to learn how to make a famous French confection – macarons. Meet a local French chef in a private Parisian ... Read more
Location: Paris, France
Duration: 3 hours (approx.)