Paris Cabarets
By Viator, November 2016
One of the most popular things to do in Paris is to experience one of the city's historic cabarets, all of which offer dazzling adult entertainment in the form of dance and acrobatic numbers featuring men and women in various states of undress, and occasionally without any clothes at all. While a sort of sexy Cirque du Soleil, cabaret shows are an adult experience, highly suggestive, and not for children.

With a number of viewing options, from simply sitting at the bar to sipping Champagne and eating a multi-course meal at one of the best tables in the joint, you'll pay between €100 and €300 for this evening out. Regardless of what you pick, you'll surely have an experience that cannot be found outside the City Of Light.
Moulin Rouge
Certainly the most famous of all of Paris' cabarets, the Moulin Rouge invented the cancan dance. The theater can be seen from blocks away thanks to its trademark giant red windmill, and you can experience this slice of history on a romantic evening out. Opt for just the show or combine the ticket with a visit to the Eiffel Tower and a Seine River cruise. To enjoy your time here like the stars of the past once did, choose the Viator VIP: Moulin Rouge Show with Exclusive VIP Seating and 3-Course Dinner.
Le Lido
This cabaret has the best location, right on the Champs Elysées. While still an adults-only show, Le Lido is less suggestive than other cabarets, with tap dancing, clowns, laser effects, a cowboy show, and sometimes acrobatic ice skating. This performance is closer in style to a Las Vegas spectacle than a traditional cabaret, and many celebrities have performed at the Lido, including Elvis Presley and Edith Piaf. Opt for dinner and the show for a perfect evening.
Paradis Latin
Perhaps the most historic of the city's cabarets, Paradis Latin was commissioned by Napoleon Bonaparte in the early 1800s before being destroyed by a fire and rebuilt by Gustave Eiffel for the 1889 World's Fair. Experience the historical venue and brilliant show with an evening of dinner and entertainment.
Crazy Horse
With a respectable, upscale reputation, the Crazy Horse cabaret has a long history of famous performers including Dita von Teese, Carmen Electra, and Pamela Anderson. The show has a focus on magic tricks and illusions, both in between and during the nude acts, with a Broadway feel to the performance.
Set in the Montmartre neighborhood, Nouvelle Eve is especially popular for its rendition of the cancan. The show has been around since 1898—its modern incarnation since 1949—and has an interior of deep blue velvet stars and coverings that is based on the heady times of the Belle Epoque, when cabaret was invented in a whirl of glitter and feathers.

2871 Reviews
The Moulin Rouge is the number one show in Paris, if not the whole of Europe. No wonder it sells out quickly! Don't miss your chance to see the world-renowned ... Read more
Location: Paris, France
Duration: Varies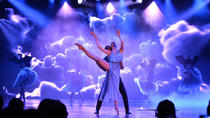 371 Reviews
Enjoy an evening of glitzy, glamorous cabaret and a delicious 3-course dinner at Paris' brand new Lido de Paris "Paris Merveilles" ® show. Head to the ... Read more
Location: Paris, France
Duration: Varies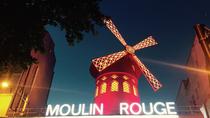 166 Reviews
See Paris' top city attractions and catch the Moulin Rouge's latest cabaret spectacle on this 6-hour Seine River dinner cruise with Moulin Rouge show. Start ... Read more
Location: Paris, France
Duration: 6 hours (approx.)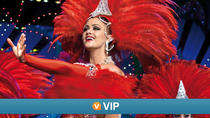 145 Reviews
See the world-famous Moulin Rouge show like a VIP as you watch from some of the best seats in the house! This exclusive experience at one of Paris' top ... Read more
Location: Paris, France
Duration: 4 hours (approx.)
175 Reviews
See the world-famous Moulin Rouge show from a VIP seat on a private balcony, enjoying Champagne and Dalloyau macaroons. After heading past the lines outside ... Read more
Location: Paris, France
Duration: 2 hours (approx.)
100 Reviews
Allow a talented troupe of dancers to seduce you at the legendary Crazy Horse cabaret in Paris. Its latest spectacle 'Désirs' combines tasteful ... Read more
Location: Paris, France
Duration: 90 minutes (approx.)
374 Reviews
For the ultimate evening in Paris, enjoy a glittering cabaret show with dinner or champagne at the Paradis Latin - the oldest traditional French cabaret in ... Read more
Location: Paris, France
Duration: 4 hrs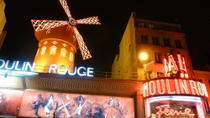 406 Reviews
Enjoy an exciting night out in Paris with dinner at the Eiffel Tower, a Seine River cruise and complete your night with one of the most famous cabaret shows in ... Read more
Location: Paris, France
Duration: 7 hours (approx.)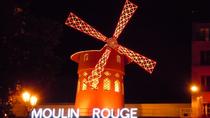 98 Reviews
Be dazzled with "Feerie", the latest Le Moulin Rouge show in Paris. With a half bottle of champagne and roundtrip hotel transfers, this is an ... Read more
Location: Paris, France
Duration: 4 hours (approx.)
699 Reviews
Paris is fabulous by day but unforgettable by night. Don't miss the chance to take an after-dinner Paris by Night Illuminations Tour and visit the home of the ... Read more
Location: Paris, France
Duration: 4 hours (approx.)