Paris Movie Sites
By Viator, March 2014
Almost everyone wants to visit Paris at least once in their lives. It's the most popular vacation destination in the world for a reason. But while it may seem like a far-off dream or just an item on a bucket list, it's usually seeing a movie set in Paris that makes you start checking for flight deals.
Why is that? Well, many say that it's the quality of the light in the City of Light. It sounds trite, yes; but once you're here, you'll see that you don't need to wait for a filmmaker's "magic hour" to witness the most astonishing light filtered through the trees, or slanting past a cafe awning. 
Another reason is that so many films set in Paris are such wonderful flights of fancy. From Amélie to Midnight in Paris to Moulin Rouge, we've come to see Paris as a place where anything could happen at any time. And as for romantic movies set in Paris? Say it with me now: "We'll always have Paris."
Filmmakers surely love Paris for these reasons, but there's another one, and more pragmatic: The Paris Film Office works closely with film production companies to make the shoot go as smoothly as possible, whether with expedited permits, street closings, or even technical assistance in recreating period-piece locations.
The result is that visitors to Paris can easily find the locations they've seen in their favorite Paris-based films. You may be there with many other tourists, but who cares? If it brings you to Paris, then it's worth it!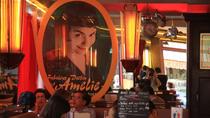 4 Reviews
Join an expert guide on a cinematic exploration of Montmartre, a charming, artsy neighborhood in Paris adored by filmmakers and stars alike. Marvel at iconic ... Read more
Location: Paris, France
Duration: 2 hours 30 minutes (approx.)
2871 Reviews
The Moulin Rouge is the number one show in Paris, if not the whole of Europe. No wonder it sells out quickly! Don't miss your chance to see the world-renowned ... Read more
Location: Paris, France
Duration: Varies