The Best Viewpoints in Paris
By Viator, March 2014
While the wide Haussmann-style boulevards and open vistas along the Seine give the visitor wonderful long views of Paris, there are several distinct locations that allow for an excellent vantage point to look out over the City of Light – and get your vacation's best photos as well. Here are our top picks for the best viewpoints in Paris.

Eiffel Tower
Obviously, going to the top of the Eiffel Tower gives you a true bird's eye view of Paris. You can take the elevator all the way up to the observation deck to see a 360-degree unobstructed view, making the city look like a living map. Note that the tower is closed in inclement weather, and that nighttime trips to the top can be just as breathtaking as during the day.

Tour Montparnasse
From the Eiffel Tower, it's impossible to miss the Tour Montparnasse – the tallest structure in France, and arguably the ugliest as well. But what a lot of people don't realize is that there is an observation floor on the inside. It's on the 56th floor, it costs less than the Eiffel Tower, and the lines aren't nearly as crazy. And the view actually includes the Eiffel Tower!

Sacre Coeur
The basilica atop Montmartre in the 18th arrondissement doesn't include the Eiffel Tower, but it does offer a sweeping view of the rest of the city, and is the perfect romantic spot at sunset. Make sure to build in some time for excellent people watching!

Centre Georges Pompidou
This museum is probably near the top of your must-do list, whether for the quirky inside-out exterior or the amazing contemporary exhibitions inside. But the secret of the museum is on the fifth floor, in the form of a truly spectacular viewpoint – including of Sacre Coeur, seemingly far away on its stately hill.

Arc de Triomphe
Before we get into the view, a word of warning – DO NOT try to cross the road to get to the arch! Instead, find one of the underground walkways. Now, onto the view. It's true that the Arc de Triomphe is not the tallest building in Paris, or at a topographically high point. But that's what makes the view all the more astounding – from the Eiffel Tower to the Champs-Élysées to the iconic rooftops of Paris. And don't forget to look down at all the traffic whizzing by!
1695 Reviews
Discover the joy of sightseeing with the Paris Pass, which gives you free entry to the best attractions Paris has to offer. Save time as you skip the queues ... Read more
Location: Paris, France
Duration: Flexible
353 Reviews
Skip the line and take in the best views of Paris and the Eiffel Tower from the 56th floor of the Montparnasse Tower. Ride Europe's fastest elevator up to the ... Read more
Location: Paris, France
Duration: Flexible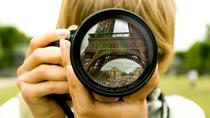 124 Reviews
Make sure you have plenty of amazing photos of your time in Paris with this 2-hour private photo shoot package. A professional photographer will suggest routes ... Read more
Location: Paris, France
Duration: 2 hours (approx.)