Visiting World War I Battlefields From Paris
By Viator, July 2017
Many travelers go to Normandy to see World War II sites, but taking in World War I battlefields and memorials is also a popular option from Paris. Whether you choose a single-day introduction or an in-depth multi-day tour, here are your options.
Small-Group Day Trips
These tours offer a personalized experience when touring historical World War I sites near Paris. Day tours visit several locations in one region, such as Somme, Aisne, and Marne in Picardy, Verdun in the Meuse department, or Ypres across the border in the Flanders region of Belgium. You can expect a two- to three-hour scenic drive to reach the sites, a midday break for lunch, and informative commentary from your guide throughout the trip. Special tours take place for commemorative events such as ANZAC Day, an Australian day of remembrance.
Multi-Day Tours
Spending two or more days visiting World War I sites allows you to take your time touring each site for a more immersive experience. An overnight tour in the Belgian city of Ypres includes a visit to Menin Gate for an evening Last Post ceremony honoring military heroes from the Great War, while longer multi-day tours head all over northern France and Belgium to visit a range of sites and offer free time for travelers to explore on their own.
Things to Know
The main WWI sites near Paris are between 60 miles (100 km) and 170 miles (275 km) away by road.

Ride in a comfortable minivan or bus through the countryside of France to reach the sites, a journey that can take from one to three hours depending on the destination.

Full-day tours generally last between 10 and 13 hours, so prepare for a long day.

Tours stop regularly for rest breaks and photo ops, with most also including an hour or more for lunch.

Bring clothing that can accommodate variable weather conditions and suitable walking shoes.

Sites to See
In the Somme department, visit the Danger Tree at Hamel, the immense Lochnagar Crater, and the Somme Trench Museum, which features wartime tunnels that display war artifacts such as uniforms and photographs.

Verdun is home to the Romagne War Museum and the Meuse-Argonne American Cemetery and Memorial, where more than 14,000 US soldiers are buried, making it the largest American cemetery in Europe.

Aisne and Marne house the Aisne-Marne American Cemetery, the Museum of the Great War in Meaux, and Belleau Wood, one of the war's most famous battlegrounds.

In the Ypres area in Belgium, you'll find the Flanders Field Museum, the Tyne Cot Commonwealth War Graves Cemetery and Memorial, John McCrae's Essex Farm site, the Langemark German Cemetery, and Vancouver Corner, a memorial to Canadian soldiers.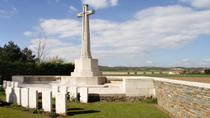 263 Reviews
On this small group tour of the Somme battlefields, you will discover a part of France that suffered severely in the violent and bloody battles of the Great ... Read more
Location: Paris, France
Duration: 11 hours (approx.)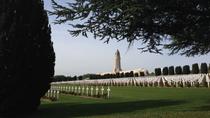 34 Reviews
Immerse yourself in the history of World War I on this day trip from Paris to Verdun and Meuse-Argonne, the sites of two major WWI battles. Your professional ... Read more
Location: Paris, France
Duration: 12 hours (approx.)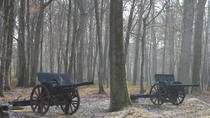 18 Reviews
Immerse yourself in World War I history with a day trip from Paris north to France's Picardy region. Visit Aisne and Marne, two major parts of the western ... Read more
Location: Paris, France
Duration: 10 hours (approx.)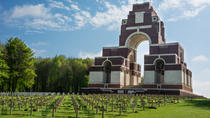 5 Reviews
Commemorate the 100th anniversary of the start of World War I with this emotional and enlightening 4-day tour of World War I battlefields, cemeteries and ... Read more
Location: Paris, France
Duration: 4 days (approx.)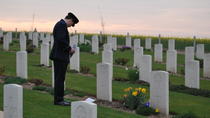 7 Reviews
Don't miss this year's ANZAC Day, an Australian day of remembrance that marks the anniversary of Australia and New Zealand's first military action during World ... Read more
Location: Paris, France
Duration: 13 hours (approx.)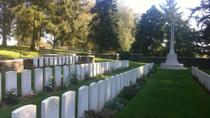 2 Reviews
Spend two days immersing yourself in World War I history as you visit the battlefields, memorials and cemeteries of Belgium and northern France, where some of ... Read more
Location: Paris, France
Duration: 2 days (approx.)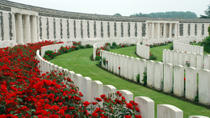 Spend a day discovering the fascinating history of the Ypres Salient, a battlefield in the Belgium Flanders region that saw many battles during World War 1. ... Read more
Location: Paris, France
Duration: 12 hours (approx.)