WWI Battlefields From Paris
By Viator, October 2015
Many visitors know that the WWII battlefields and memorials in the Normandy region of France are a popular day trip from Paris but what they may not realize is that France abounds with WWI battlefields and memorials as well. Just as France honors the memory of the War to End All Wars, so too do they remember with great respect the Great War. And although a trip to see the WWI battlefields from Paris is more time-consuming than visiting the Normandy sites, it's worth at least a day trip to one of the sites – and a longer trip takes you into Belgium as well, if you're country-counting! Here are the main sites to see.

Ypres

Ypres, Belgium is a major stop on anyone's WWI itinerary. The Ypres salient battlefields, which pushed into enemy territory, were where no less than five Battles of Ypres were fought. Located in the Flanders region of Belgium, Ypres today is not only a base from which to visit these hallowed grounds, but the In Flanders Field Museum gives even the most novice visitor the perfect context for the sites to come.

Although it can make for a long day, stick around for the 8 p.m. Last Post ceremony at Menin Gate in Ypres. This nightly ceremony remembers the brave soldiers who fought in the Battles of Ypres and saved France from the German enemy.

Somme

The Somme department of the region of Picardy is another important WWI locale that can be explored as a day trip, or during a longer itinerary.

For those who want to learn about the history of the war, a good start is the Somme Trench Museum in Albert. Not for the claustrophobic, this museum in the tunnels under the town display artifacts, original documents, uniforms and other items that bring the war to life.  

For battle enthusiasts, a road trip through what today is a pastoral scene reveals the remains of trenches, the "Danger Tree" at Hamel, and of course the Lochnagar Crater, at which one of the loudest man-made sounds in history was made when the explosion that left this crater was detonated.

Verdun

Verdun, in the Meuse department of northeast France, was the site of one of the deadliest battles of the War. Dotted with World War I battlefields and landmarks, it's also the home of the Romagne War Museum and the Meuse-Argonne American Cemetery and Memorial, which is the largest US cemetery in Europe.

Aisne and Marne

Located in the Picardy region, Aisne and Marne were two more sites of deadly battles. Here visitors can pay their respects to the fallen at the Aisne-Marne American Cemetery, learn more about WWI at the Museum of the Great War in the nearby town of Meaux and visit one of the most famous battlegrounds of the war, Belleau Wood.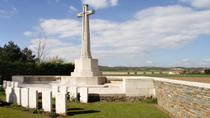 252 Reviews
On this small group tour of the Somme battlefields, you will discover a part of France that suffered severely in the violent and bloody battles of the Great ... Read more
Location: Paris, France
Duration: 11 hours (approx.)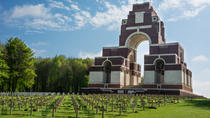 5 Reviews
Commemorate the 100th anniversary of the start of World War I with this emotional and enlightening 4-day tour of World War I battlefields, cemeteries and ... Read more
Location: Paris, France
Duration: 4 days (approx.)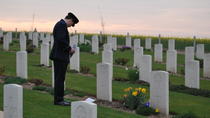 6 Reviews
Don't miss this year's ANZAC Day, an Australian day of remembrance that marks the anniversary of Australia and New Zealand's first military action during World ... Read more
Location: Paris, France
Duration: 13 hours (approx.)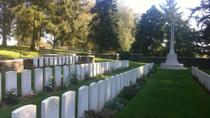 1 Review
Spend two days immersing yourself in World War I history as you visit the battlefields, memorials and cemeteries of Belgium and northern France, where some of ... Read more
Location: Paris, France
Duration: 2 days (approx.)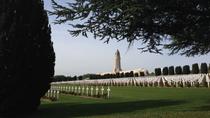 24 Reviews
Immerse yourself in the history of World War I on this day trip from Paris to Verdun and Meuse-Argonne, the sites of two major WWI battles. Your professional ... Read more
Location: Paris, France
Duration: 12 hours (approx.)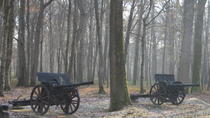 14 Reviews
Immerse yourself in World War I history with a day trip from Paris north to France's Picardy region. Visit Aisne and Marne, two major parts of the western ... Read more
Location: Paris, France
Duration: 10 hours (approx.)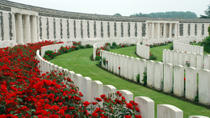 19 Reviews
Spend a day discovering the fascinating history of the Ypres Salient, a battlefield in the Belgium Flanders region that saw many battles during World War 1. ... Read more
Location: Paris, France
Duration: 12 hours (approx.)