The views on the open steppe of Patagonia, carved by glaciers and wind that pushes trees into gnarled forms are only part of what inspire people to visit Chile's Torres del Paine. Diminutive trees aside, everything seems gigantic here. The lakes, the glaciers, the craggy rock formation called "Los Cuernos," and of course the towers that give the park its name, are all on larger scale than you'd expect. Add to that wildlife sightings, and the broad palette of colors, from the pink dawn to the red-blooming Chilean firebrush, the yellow grasses, blue skies, bright white glaciers and of course, the blue-to-turquoise lakes that dot the park, and you'll know why most visitors take more photos in Torres del Paine than they expected.

A four-day trip from Punta Areas
The drive from Punta Arenas, through the tidy town of Puerto Natales to the park keeps visitors' eyes open, on the lookout for foxes, guanacos (a furry relative of the llama), and long-legged rheas, related to the ostrich, who often break out into a waddling run. Lucky visitors catch flamingoes flying overhead, their long necks stretched out into the distance.

On a four day trip to Patagonia, there's plenty of time to sail up the Ultima Esperanza fjord to check out the Balmaceda Glacier, hike to the tongue of the Serrano Glacier, and drive through the vast, 600,000-acre Torres del Paine park, passing lakes that vary in color from grey to deep blue to a milky turquoise.

Visit from El Calafate
El Calafate, on the Argentine side also offers access for a day trip to Torres del Paine crossing the Chile-Argentina border and driving to the park, past the Sarmiento and Amarga lakes, and viewing the massive, striated Cuernos rock formation. Wildlife viewing is practically guaranteed. The highlight of this trip is a short hike to visit Salto Grande which is where the Paine river, itself an outflow of the Nordenskjold Lake, changes from turquoise to frothy white as it tumbles over the ledge that creates the falls.

Swiftly changing weather means you might want a few changes of wardrobe, so dress in layers. And don't be caught in the park without enough memory or battery power for your camera on this highly photogenic trip.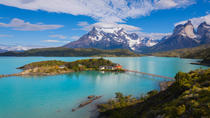 45 Reviews
Journey out of El Calafate for a full day, on a scenic drive to the Chilean border, where after clearing customs, you'll head to the Torres del Paine National ... Read more
Location: El Calafate, Argentina
Duration: 14 hours (approx.)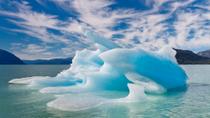 6 Reviews
Explore the lakes, glaciers and snow-covered mountains of Chilean Patagonia on a four-day excursion based in Puerto Natales. Take a day cruise among the ... Read more
Location: Punta Arenas, Chile
Duration: 4 days (approx.)