Located 91 miles (147 kilometers) southeast of Bangkok, the city of Pattaya has emerged as one of Thailand's most popular beach resorts, and for good reason. The best beaches in Pattaya are also some of the best within easy reach of Bangkok, making the city a popular weekend getaway destination.

Pattaya Beach, a 2.5-mile (4-kilometer) stretch of sand, serves as the primary beach for the city, Divided into three areas, the beach tends to be lively day and night, in part because of the restaurants, bars and hotels lining it. If you want to party, the Central and South segments of the beach fit the bill, but if you're looking for a quieter beach experience, head further north.

Nearby Jomtien Beach is close enough to all the action to feel lively but far enough away to lend it a sense of peace, making it a popular choice among locals and water sports enthusiasts. If you want to take a windsurfing lesson, this is the place to do it.

For a quiet, clean and peaceful beach within easy reach of central Pattaya, head north to Maklua Beach or Wong Prachan Beach. Both stretches of coast are home to many of Pattaya's upscale resorts, but the sand remains open to the public. These two beaches rank at the top of the list when it comes to swimming, relaxation and family friendliness.

If you find yourself in need of an escape from the crowds and noise of Pattaya, hop on a speedboat for the 45-minute trip to nearby Koh Larn. Clean, white sand and tranquil waters are the stars here. Besides relaxing on the beach, it's possible to snorkel the reefs, take a glass-bottom boat tour or try your hand at parasailing or windsurfing.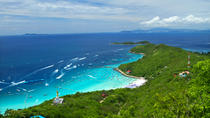 32 Reviews
Coral Island is a popular excursion from Pattaya. Travel a short distance by speed-boat and spend the day at leisure on this lovely island.
Location: Pattaya, Thailand
Duration: 7 hours (approx.)