1 Review
Address:

Archea Olimpia, Pyrgos, Elis, Peloponnese, Greece 270 65, Greece

Hours:

Open daily 8am–8pm

Admission:

Adults: €6; Seniors, Students and Children: €3
The UNESCO World Heritage-listed Olympia in the Peloponnese is world-renowned as the location of the first Olympic Games of the classical world, which were held in in 776 BC; they subsequently took place every four years for almost a thousand years before being disbanded in the fourth century AD. However, the story of Olympia goes back much further, as for centuries it was the holiest and most celebrated shrine in ancient Greece. Pilgrims came from across the Empire to worship Zeus — the father of all Greek gods — and his wife Hera in the temples and shrines of the Atlis (Sanctuary of the Gods).
Excavations at Olympia began in 1829 and today the vast complex is scattered with cracked paving, mounds of stone, crumbling statuary and fractured temples. Only one column remains of the Temple of Zeus, but that is enough to grasp the sheer size of the original building. The temple of Hera is better preserved and it is here that the Olympic flame is still lit before it journeys across the world. Among the jumble of ruins are civic buildings and guesthouses that served ancient pilgrims, plus the stadium, hippodrome, wrestling school and gymnasium where Olympic athletes worked out.
The Archaeological Museum at Olympia is one of the most important in Greece; highlights include a scale model of the ruins, pediment carvings from the Temple of Zeus and a statue of the messenger god Hermes by Praxiteles, one of the most important sculptors of ancient Greece, whose work also adorned the Acropolis.
Practical Info
Archea Olimpia, Greece. Open daily 8am–8pm. Admission site only: adults €6, seniors, students and children younger than 18 €3; combined site and museum: adults €9, seniors, students and children younger than 18 €5. West of Athens in the foothills of Mount Kronios, Olympia is best reached by car; the journey is 187.5 miles (300 km) and takes around four hours via the A7. It is often visited as part of a multi-day tour of classical Greece, and cruise ships visitors from the nearby port of Katakolon can arrange private tours of Olympia.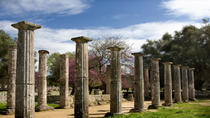 8 Reviews
When your cruise docks in the Katakolon port, take a private shore excursion to Olympia, where you'll discover its famous archeological site on a walking tour. ... Read more
Location: Katakolon, Greece
Duration: 4 hours (approx.)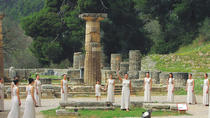 1 Review
Explore the UNESCO World Heritage Site of Olympia, home to the first Olympic games, and the pretty neoclassical city of Pyrgos on this 4-hour private shore ... Read more
Location: Katakolo, Greece
Duration: 4 to 5 hrs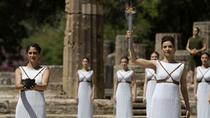 1 Review
Be inspired by the birthplace of the Olympics, a UNESCO World Heritage Site, on this 4-hour private shore excursion from Katakolon port to Olympia with ... Read more
Location: Katakolo, Greece
Duration: 4 hours (approx.)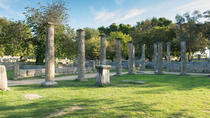 3 Reviews
Explore ancient Olympia comfortably on this 12-hour small group tour from Zakynthos. Accompanied by an archaeological guide and traveling by ... Read more
Location: Zakinthos, Greece
Duration: 12 hours (approx.)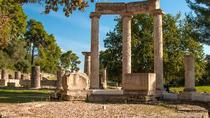 Enjoy a guided tour to the archaeological site and museum of Ancient Olympia with a licensed guide and air-conditioned vehicle. The tour includes pick-up and ... Read more
Location: Katakolo, Greece
Duration: 5 hours (approx.)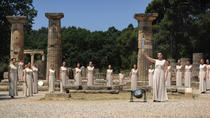 1 Review
This Ancient Olympia private excursion explores sites from the past. Capacity is suitable for up to 8 people in a luxury mini van.
Location: Patras, Greece
Duration: Flexible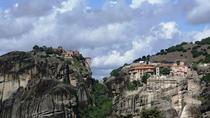 4 Reviews
Explore the glory of ancient Greece with this four day classical tour from Athens. With this unique tour visit and enjoy five UNESCO'S world heritage sites.
Location: Athens, Greece
Duration: 4 days (approx.)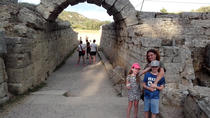 1 Review
This private tour exclusive to your group journeys to 5 UNESCO world heritage sites visiting some of the most impressive remains of Ancient, Classical & ... Read more
Location: Athens, Greece
Duration: 4 days (approx.)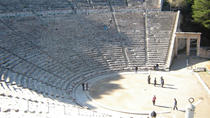 1 Review
On this private tour from Athens, journey to five of the most significant and unique sites in Greece: the Corinth Canal, ancient Corinth, ancient Mycenae, the ... Read more
Location: Athens, Greece
Duration: 2 days (approx.)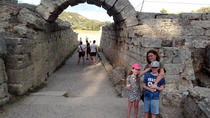 3 Reviews
This private tour exclusive to your group journeys to 4 UNESCO world heritage sites visiting some of the most impressive remains of Ancient, Classical & ... Read more
Location: Athens, Greece
Duration: 3 days (approx.)