While a worthwhile destination with much to see and experience, there's no denying Phoenix can get unbearably hot. In the summer, temperatures often reach into the low 100s Fahrenheit (high 30s Celsius), with the average yearly high temperature being 85 degrees Fahrenheit (29 Celcius). To help you beat the heat, here are some suggestions for staying cool in Phoenix.
Rent a jet ski at Lake Pleasant
Renting a jet ski at Lake Pleasant
is a great way to stay cool in Phoenix. Lake Pleasant is a 10,000-acre (4,045-hectare) clear water lake known for its Sonoran Desert setting and secluded coves. As your jet ski zooms across the glassy waters at speeds up to 70 mph (112 kph), the wind blows against your body while refreshing splashes of water cool you down. It's the perfect mix of adventure and scenic rejuvenation on a hot day.
Visit the SEA LIFE Aquarium Arizona
When it gets too hot to be outdoors, head inside and explore the
SEA LIFE Aquarium Arizona
. This air-conditioned attraction is home to over 5,000 animals, some of which include sharks, rays, sea horses, starfish, octopi, sea turtles and tropical fish. Displays at the aquarium are designed to look like the animals' natural habitats, so you'll get an idea of what it would really look like to see them in the wild. Along with viewing marine animals, SEA LIFE Aquarium Arizona puts on educational talks, events, live feedings (including sharks!) and even a touch pool where you can feel sea quirts, starfish and crabs. Visiting the attraction is a great way to cool down in Phoenix, and is especially worthwhile for families.

Take an aerial and/or bus tour of the Grand Canyon
One of the best things about visiting Phoenix is it's accessibility to the Grand Canyon. While hiking through the Grand Canyon can get extremely hot in the summer, you can enjoy the natural attraction's beauty via an aerial or bus tour from Phoenix. A
Grand Canyon Helicopter and Ground Tour from Phoenix
is a smart option that provides a range of cool experiences. After being picked up in an air conditioned luxury van from your hotel, you'll enjoy a scenic drive to Sedona before continuing on through Oak Creek Canyon, touted as one of the country's most scenic drives. At the Grand Canyon South Rim, you'll board a helicopter for a 50-minute flight awarding aerial views of the natural wonder. This allows you to take in the Grand Canyon from a vantage point not many get to experience. Back on the ground you'll also drive around a section of road that features those iconic Grand Canyon viewpoints you see in postcards. During your free time at the canyon you can choose to do some hiking, or stay cool by shopping or having lunch. On the way home, scenic drives through the Navajo Nation and Painted Desert keep you cool while allowing you to enjoy the landscape.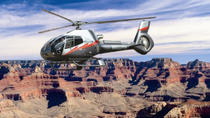 199 Reviews
Experience the scenic beauty of Arizona on this small-group day trip from the Phoenix-Scottsdale area. Visit one of the world's wonders, the Grand Canyon, and ... Read more
Location: Phoenix, Arizona
Duration: 13 hours (approx.)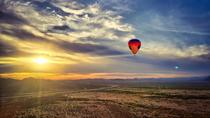 44 Reviews
A morning hot-air balloon ride over Phoenix is an exhilarating experience. After your flight, enjoy a gourmet champagne breakfast for the perfect start to your ... Read more
Location: Phoenix, Arizona
Duration: 3 hours 30 minutes (approx.)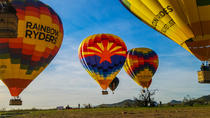 13 Reviews
Make memories you'll never forget with this 1-hour hot air ballon ride from Phoenix. Groups large and small will enjoy breath-taking 360-degree views as you ... Read more
Location: Phoenix, Arizona
Duration: 4 hours (approx.)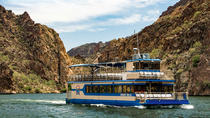 109 Reviews
Take in the stunning views of Saguaro Lake on a 90-minute cruise. Set sail on the Desert Belle, a historic ship that's been restored. You'll see the iconic, ... Read more
Location: Mesa, Arizona
Duration: 90 minutes (approx.)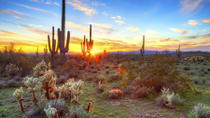 26 Reviews
Experience the Sonoran Desert in a way few get to see it. Enter the desert after sundown as the creatures of the night stir. Let your informative and ... Read more
Location: Phoenix, Arizona
Duration: 3 hours (approx.)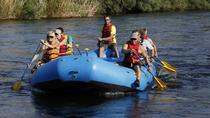 Float down the Lower Salt River on a guided flatwater rafting trip and discover a scenic and relaxing desert oasis just outside Phoenix and Scottsdale. Swim, ... Read more
Location: Scottsdale, Arizona
Duration: 4 hours (approx.)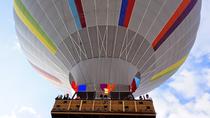 1 Review
Just north of Phoenix, enjoy a 45-minute hot air balloon ride over the Sonoran Desert. Once you arrive, watch as your balloon inflates. After your flight, ... Read more
Location: Phoenix, Arizona
Duration: 4 hours (approx.)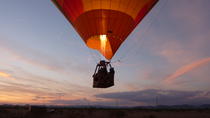 36 Reviews
A sunset hot air balloon ride over Phoenix is an exhilarating experience. After your flight, enjoy evening hors d'oeuvres and bubbly for the perfect ... Read more
Location: Phoenix, Arizona
Duration: 3 hours 30 minutes (approx.)
Feel the thrill of skydiving without jumping out of an airplane. It's true! Head to iFLY Phoenix, a premier indoor skydiving facility powered by a ... Read more
Location: Phoenix, Arizona
Duration: 75 minutes (approx.)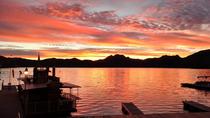 1 Review
Enjoy the beautiful views of Saguaro Lake on a 90-minute live music cruise. Set sail on the Desert Belle, a historic ship while listening to live music from ... Read more
Location: Mesa, Arizona
Duration: 90 minutes (approx.)