One of the best ways to tour the famous Pearl of the Andaman is by elephant, and a number of carefully structured tours offer the opportunity to do so in considerable style.

For travellers with a bit of extra time (and curiosity), notable half-day safari tours provide a very thorough and thoroughly enjoyable short course on island culture, geography and cuisine.

The journey begins with a four-wheeler excursion from your Phuket hotel into the Chalong Highlands where the Siam Safari Elephant Camp is located. Once there, you'll meet your massive mammalian transports and learn a great deal about them and the state of modern elephant conservation efforts.
 
Next you'll take a ride on an elephant's back into the surrounding highlands, and take in the sweeping vistas of Chalong Bay and Phi Phi Island beyond.

Along with your adventures aboard an elephant, this award-winning camp offers the opportunity to learn about the preparation of Thai jungle curry, the tapping of rubber trees, and the training of monkeys used for the picking of coconuts. You'll have up-close and personal exposure to water buffaloes, and learn how coconuts are processed to make coconut milk and oil.

The tour concludes with a buffet lunch prepared with fresh ingredients and with a selection of Thai dishes that are designed to go easy on sensitive western pallets (meaning they're relatively mild). An additional feature is an optional tour of the bay in a traditional wooden junk before returning to your hotel.

Shorter elephant tours (approximately an hour) depart into the Phuket jungle from major hotels daily from 9 p.m. to 4 p.m.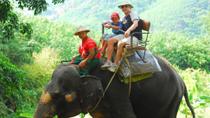 169 Reviews
It's fun for the whole family on this half day combination tour on Phuket island. Admire the unspoiled scenery from the back of an elephant and canoe the calm ... Read more
Location: Phuket, Thailand
Duration: 5 - 6.5 hours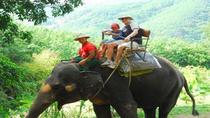 36 Reviews
Ride an elephant through the Phuket jungle on this one-hour trek. This is truly an unforgettable experience of a life time, not to be missed.
Location: Phuket, Thailand
Duration: 60 minutes (approx.)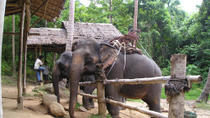 1 Review
Travellers with a taste for adventure will enjoy this exciting excursion featuring several fascinating glimpses of nature. Explore Phuket by four-wheel drive ... Read more
Location: Phuket, Thailand
Duration: 4 hours (approx.)