101 Reviews
Address:

Piazza del Duomo, Pisa, Tuscany 56126, Italy

Hours:

Daily April–Sept 9am–8pm; Oct 10am–7pm; Dec–Jan 10am–5pm; Nov, Feb–March 9am–6pm

Admission:

Tower climb €30
Leaning Tower of Pisa
A UNESCO-listed monument, a world-renowned icon, and Pisa's undisputed star attraction, the Leaning Tower of Pisa is surely one of Italy's most famous structures. Looming 186 feet (57 meters) over the Piazza del Duomo, the Leaning Tower is named for its inimitable tilt.
Originally built as a bell tower for the Pisa Cathedral in 1178, the tower's now notorious lean began before it reached its third story, the result of sifting soil and engineering miscalculations. Construction continued, and while it took over 200 years to complete, the gravity-defying tower is still standing—and leaning—today.
For visitors to Pisa, the must-have souvenir is an optical illusion photo in which a traveler can be seen "pushing" the Leaning Tower of Pisa, but equally memorable is the climb to the top of the tower. After scaling the 294-step spiral staircase, the reward is a spectacular panoramic view of the city.
Insider's Tip: Visitor numbers to the Leaning Tower are strictly limited and visits are timed. To avoid disappointment and dodge the long lines, book skip-the-line tickets in advance.
Practical Info
The Leaning Tower of Pisa is located on Piazza del Duomo and is open daily. Hours are 9am to 6pm in November, February, and March; from 10am to 5pm in December and January; from 9am to 8pm from April to September; and from 10am to 7pm in October. Climbing the tower costs €30. Children under 8 are not permitted to make the climb.
Did you know? For many years, the famous tower was not just leaning, but falling. Fortunately, thanks to expert engineering using cables and counterweights, the tower is now stable and safe for visitors.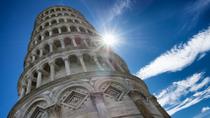 107 Reviews
Visit the UNESCO World Heritage-listed Leaning Tower of Pisa with this entrance ticket. After exchanging your voucher, head up the tower's sloping staircase ... Read more
Location: Pisa, Italy
Duration: 30 minutes (approx.)
Uncover the magic of Pisa and Lucca during this private full-day tour by van from Florence. Stand under the notorious Leaning Tower of Pisa and stroll over ... Read more
Location: Florence, Italy
Duration: 8 hours (approx.)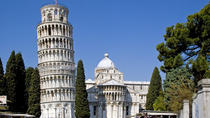 522 Reviews
See the highlights of Pisa on a day trip from Florence, and use a skip-the-line ticket to climb the UNESCO-listed Leaning Tower of Pisa. After traveling ... Read more
Location: Florence, Italy
Duration: 5 hours 30 minutes (approx.)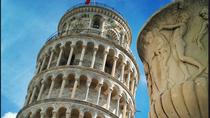 Birthplace of one of modernity's greatest scientists, Galileo Galilei, the coastal city of Pisa is found in the centre of a fertile plain in north western ... Read more
Location: Pisa, Italy
Duration: 60 minutes (approx.)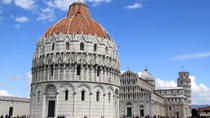 87 Reviews
Explore Pisa on a comprehensive 1.5-hour tour with access to the UNESCO-listed Leaning Tower of Pisa. This experience features a walking tour of Cathedral ... Read more
Location: Pisa, Italy
Duration: 90 minutes (approx.)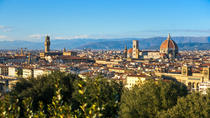 14 Reviews
Head out on an independent shore excursion from the La Spezia port to the towns of Florence and Pisa, breathing in the magical atmosphere that only Tuscany can ... Read more
Location: La Spezia, Italy
Duration: 9 hours (approx.)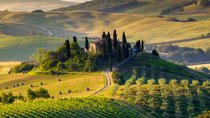 144 Reviews
There's more to Tuscany than Florence. Leave the city behind and discover three other enchanting Tuscan destinations on this day trip to Siena, San Gimignano ... Read more
Location: Florence, Italy
Duration: 14 hours (approx.)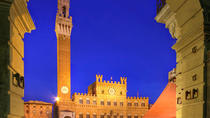 22 Reviews
Enjoy this full day trip to Pisa, San Gimignano and Siena from Florence. Learn about the Tuscany history through sightseeing, while visiting three most famous ... Read more
Location: Florence, Italy
Duration: 14 hours (approx.)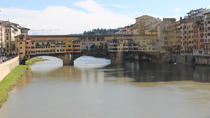 14 Reviews
Visit two of Tuscany's most representative cities, Florence and Pisa, on a full-day tour. Explore the birthplace of the Italian Renaissance, walk along ... Read more
Location: Rome, Italy
Duration: 12 hours (approx.)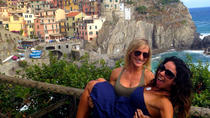 72 Reviews
Spend an unforgettable day exploring Pisa and the enchanting Cinque Terre region on this must-do guided tour from Florence, offered to people between 18 and 39 ... Read more
Location: Florence, Italy
Duration: 13 hours (approx.)