Columbia River Gorge
About 16 miles east of Portland, the Columbia River Gorge stretches from Troutdale to Biggs on the Oregon side, and from Vancouver to Maryhill on the Washington side. An 80-mile canyon ranging from sea level to 4,000 feet, this National Scenic Area separates the two states in a wide, rocky and leafy ribbon which runs between the Columbia River and the Cascade Mountains.

In 1805, the Lewis and Clark Expedition used the Columbia and its craggy banks to reach the Pacific; these days, two smoothly-paved highways on the Oregon side would greatly simplify the explorers' epic journey. Interstate-84 parallels the achingly wide, cornflower-blue Columbia, wending past dense, dark forests and jagged, lavender-grey mountains. Beside the Columbia River Highway (which runs adjacent to I-84 from Troutdale to Dodson), the Gorge is webbed with hiking trails and more than 90 waterfalls, including the 620-foot-high Multnomah Falls.

While it's possible to treat the Gorge as a day's trip out of Portland, the area makes an ideal weekend trip of itself; the Gorge provides opportunities for hiking, biking, fishing, water sports and more. Oregonian highlights of the Gorge include the hand-hewn Timberline Lodge; Mt Hood, the highest mountain in the state; the windsurfing action and cozy taverns of downtown Hood River; wine tasting in the Pinot-focused Willamette Valley; the Columbia Gorge Discovery Center at The Dalles and the rafting rapids of the White Salmon River.
 
Practical Info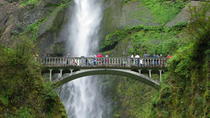 45 Reviews
Visit the number #1 attractions in the Portland area, Multnomah Falls and Gorge Waterfall. Don't just drive by the waterfalls, stop and see them up close. ... Read more
Location: Portland, Oregon
Duration: 3 hours 30 minutes (approx.)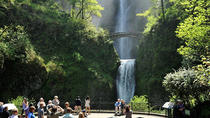 60 Reviews
The Pacific Northwest offers endless rugged beauty, and on this small-group tour from Portland, you'll explore the gorgeous waterfalls of Columbia Gorge, ... Read more
Location: Portland, Oregon
Duration: 6 hours (approx.)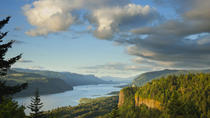 39 Reviews
Travel from Portland to the Columbia River Gorge for a fun biking and hiking adventure! Soak in this beautiful Pacific Northwest landscape as you follow your ... Read more
Location: Portland, Oregon
Duration: 5 hours (approx.)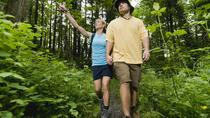 4 Reviews
Head from Portland to the Columbia River Gorge National Scenic Area for an educational private day trip. Follow a naturalist guide on several short walks to ... Read more
Location: Portland, Oregon
Duration: 9 hours (approx.)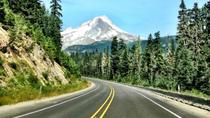 1 Review
Venture from Portland to the Columbia River Gorge and Mt Hood on this scenic, relaxing day trip. You'll be in awe of the beauty of the Pacific Northwest ... Read more
Location: Portland, Oregon
Duration: 10 hours (approx.)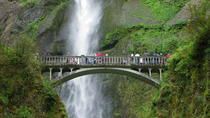 20 Reviews
Visit the top attractions near the Portland, Oregon area on this guided, half-day tour. Spend an afternoon at Multnomah Falls and the Columbia River Gorge ... Read more
Location: Portland, Oregon
Duration: 3 hours 30 minutes (approx.)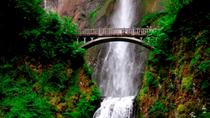 37 Reviews
Species seen nowhere else in the world, dramatic basalt lava flows nearly a mile deep, and some of the world's most beautiful waterfalls are a few of the ... Read more
Location: Portland, Oregon
Duration: 4 hours (approx.)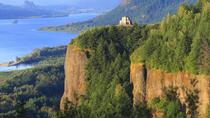 7 Reviews
A half hour east of Portland can be found the Columbia river Gorge, Multnomah falls and some of the most magnificent scenery in the country; skyscraper cliffs, ... Read more
Location: Portland, Oregon
Duration: 4 hours (approx.)
1 Review
Indulge yourself in a day trip that includes a hike in the Pacific Northwest wilderness, followed by a glorious hot soak, and lunch. Head out to the majestic ... Read more
Location: Portland, Oregon
Duration: Flexible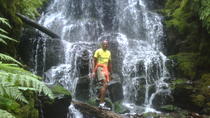 11 Reviews
The Columbia River Gorge National Scenic Area features dozens of waterfalls along with stunning river views and hiking trails. On this 8-hour day trip from ... Read more
Location: Portland, Oregon
Duration: 8 hours (approx.)