Prague Castle, Europe's largest, is a looming presence in the heart of the Czech capital. The word "castle," however, is a little misleading. This is a rambling complex big enough to incorporate its own cathedral (the beautiful St. Vitus) which started out in the Gothic style but took so long to build it ended up as Neo-Gothic. Enjoy peerless views of the city as you make your way round the Old Royal Palace, Picture Gallery and St. George Convent. But it wasn't all kings and knights around here: you'll also encounter the charming multicolored cottages of Golden Lane, one of which housed novelist Franz Kafka.
Among the most picturesque remnants of royal Bohemia is Karlstejn Castle, about a 30 minute train ride from central Prague. This 14th century jewel dominates the surrounding countryside from its stunning hilltop location. Once inside, marvel at the extensive wall frescoes in the castle's lavishly gilded chapel.
Also readily accessible from Prague is Konopiště Chateau. While the exterior is of a similar vintage to Karlstejn, waiting inside like a perfect pearl is a later Renaissance palace. You'll also find hunting trophies and serene gardens left behind by Konopiště's most famous resident: Archduke Franz Ferdinand, heir to the Austro-Hungarian throne whose assassination triggered World War I. Konopiště Chateau is a manageable walk or short bus ride from the station at Benešov, which can be reached in an hour by train from Prague.
Some of Bohemia's most ravishing forest landscapes whiz past the window on your way to Český Krumlov, a picturesque medieval town near the Austrian border 110 miles (180 kilometers) south of Prague. The castle here enjoys a phenomenal location high above a river loop, its romantic towers visible from miles around. Like Konopiště, the castle in this UNESCO World Heritage site started as a Gothic fortress and was augmented by later rulers. A series of courtyards give access to Renaissance Rooms, a Baroque palace and a gorgeous Rococo theatre.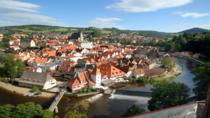 571 Reviews
If you love castles, you won't want to miss Cesky Krumlov's World Heritage-listed castle! Known as 'the Pearl of the Renaissance', the State Castle of Cesky ... Read more
Location: Prague, Czech Republic
Duration: 10 hours (approx.)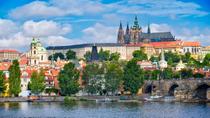 206 Reviews
Uncover the secret of the magical Golden Lane, gain insight into the St George's Basilica ancestral convent on this walking tour of the renowned Prague Castle! ... Read more
Location: Prague, Czech Republic
Duration: 3 hours 30 minutes (approx.)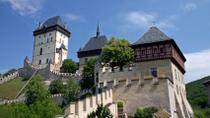 54 Reviews
Discover the impressive Karlstejn Castle on a guided half-day coach tour from Prague. Built in the 14th century by Charles IV, the Roman Emperor and King of ... Read more
Location: Prague, Czech Republic
Duration: 4 hours 30 minutes (approx.)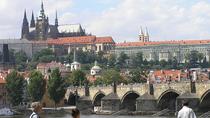 8 Reviews
Tour Prague Castle on a 2.5-hour walking tour and learn about more than ten centuries of the city's history while exploring the biggest castle complex in the ... Read more
Location: Prague, Czech Republic
Duration: 2 hours 30 minutes (approx.)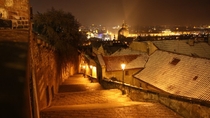 3 Reviews
Join this private tour and explore Prague Castle in a 1.5-hour night tour. See Prague's top attraction all lit up at night with a local private guide and ... Read more
Location: Prague, Czech Republic
Duration: 90 minutes (approx.)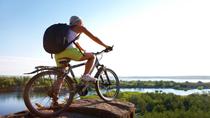 24 Reviews
Cycle from Prague to Karlstejn Castle on a guided bike tour! With your local guide, you'll enjoy a leisurely cycle along the banks of the River Vlatva, passing ... Read more
Location: Prague, Czech Republic
Duration: 9 hours (approx.)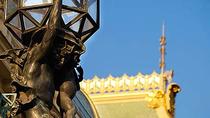 3 Reviews
Experience Prague through the eyes of the local photographer. Learn how to take amazing photographs and be introduced to incredible Eastern Europe scenery.
Location: Prague, Czech Republic
Duration: 3 hours (approx.)