While the Brazilian side of the falls can be explored in half a day, you could easily spend two or more days enjoying the Argentine portion of the park.

Day 1: Into the Falls

After settling into your hotel, grab a bus to the national park for your first exploration of the falls. If it's already hot, begin with the Garganta del Diablo or a boat trip under falls, for maximum spray. Relax afterward at Guira Oga, or take in the town's tiny Ecomuseum and Museo Municipal de Bellas Artes. If you've planned your trip well, spend your starry night above the falls once more, on a romantic full moon tour.

Day 2: Back to the Park

Begin the day with a quick trip to Brazil, where you can spend the cool of the morning photographing those panoramic vistas of the Devil's Throat and the Argentine falls. Unless you want to visit Itaipu Dam, or splash out on a helicopter ride, it's back to Argentina, for a half-price second day at the national park. Be sure to take the ferry to Isla San Martin. End the evening at Puerto Iguazu's Three Borders Landmark. 

Day 3: Heading Out

Even if your plane leaves early, you probably have time to stop by the Arts and Crafts Market for some souvenir shopping, or visit La Aripuca for a quick introduction to Guarani Culture. No such time constraints? Consider booking a tour to Wanda Mines, with those remarkable amethyst geodes, and San Ignacio Mini, where you could spend the night before embarking on the next adventure. Uruguay, anyone?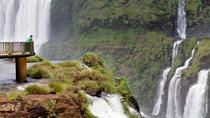 82 Reviews
Make the most of your Iguassu Falls vacation and visit both the Argentinian and Brazilian side of the falls. Combine two sightseeing tours from Puerto Iguazu ... Read more
Location: Puerto Iguazu, Argentina
Duration: 10 hours (approx.)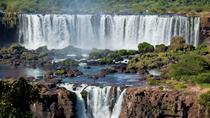 9 Reviews
Experience Iguassu Falls on this 3-day tour with accommodation in Puerto Iguazu. Admire this spectacular natural wonder on a full-day guided tour of both ... Read more
Location: Puerto Iguazu, Argentina
Duration: 3 days (approx.)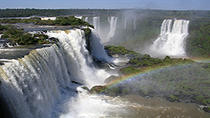 107 Reviews
Recognized world-wide, the Iguazu Falls is considered to be one of the most impressive natural beauties on Earth. With more than 200 falls reaching heights of ... Read more
Location: Puerto Iguazu, Argentina
Duration: 9 hours (approx.)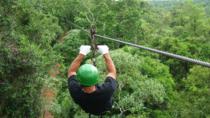 9 Reviews
Experience the thrill of a 4-hour eco-adventure filled with trekking, ziplining and rappelling in the dense forest known as Selva Misionera just outside the ... Read more
Location: Puerto Iguazu, Argentina
Duration: 4 hours (approx.)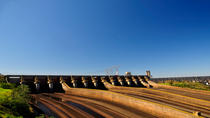 12 Reviews
Combine two great sightseeing excursions on this cross-border day trip from Puerto Iguazu to the Brazilian side of Iguassu Falls and the Itaipu Dam. First, ... Read more
Location: Puerto Iguazú, Argentina
Duration: 9 hours (approx.)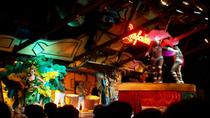 10 Reviews
After you've spent your day exploring Iguassu Falls, spend the night experiencing a little South American culture! Cross the border from Argentina to Foz do ... Read more
Location: Puerto Iguazú, Argentina
Duration: 4 hours (approx.)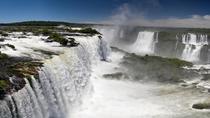 32 Reviews
Even if you're staying in Puerto Iguazú, you can still visit the Brazilian side of Iguassu Falls! Journey deep into Iguacu National Park, get an up-close ... Read more
Location: Puerto Iguazu, Argentina
Duration: 4 hours (approx.)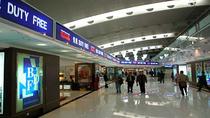 1 Review
Enjoy duty-free shopping near Iguassu Falls with hotel transportation! This unbeatable price is hard to find anywhere else in Iguassu Falls, so book today, and ... Read more
Location: Foz do Iguaçu, Brazil
Duration: 4 hours (approx.)