While experts recommend spending at least five hours on the Argentine side of Iguassu, there are attractions enough to indulge your senses among the roaring waterfalls for three full days, or more.

By Train and Trail
There are five major trail systems on the Argentine side of the park, connected to the visitors center by the Eco Jungle Train, or "Tren de las Cataratas." The longest and most spectacular trails begin at Cataratas Station; enjoy the relatively easy San Martin Trail and Upper Circuit, which weaves through the rainbow mists of Dos Hermanas, Bernabe Mendez Falls and Salto Mbigua; or descend to the Lower Circuit Trail, with ferry connections to San Martin Island. Central Station is the trailhead to less popular Macuco Trail, a 7km (4mi) roundtrip excursion into the wildlife-rich rainforest, ending at 20m (66ft) Arrechea Waterfall, where you can swim. Devil's Throat Station is the starting point for treks to the edge of the Garganta del Diablo, with spectacular views over Union, Floriano, and Santa Maria falls.

By Moonlight
The pale crashing falls and their shimmering mists famously play with the tropical light. But imagine experiencing those glittering liquid cascades beneath the full moon. Five nights per month you can book a special night trips to the Garganta del Diablo. No flashlights, flash photos, or other modern distractions are allowed. Three ranger-led tours leave nightly when the moon is bright, with train service at 7:10 p.m., 7:50 p.m., and 8:50 p.m. Tours include a very late buffet dinner.

By Boat
Take a tiny zodiac boat from the Lower Circuit Trail into the rainbow-strewn mists and find yourself in the roaring dump zone of some of the world's biggest waterfalls. This adrenaline-inducing excursion can be combined with a bumpy trip in an open-air vehicle through the rainforest, or just enjoyed on its own. The tour first takes you along the eastern side of the falls, practically beneath Barnabe Menendez, then rides the whitewater around Isla Martin, past the Three Musketeers, and into the Devil's Throat. The entire trip takes 10-15 minutes, and everything not packed up will be absolutely soaked. Tickets are sold at the entrance to the park.

By San Martin Island
The plateau promontory separating the Argentine cascades of Mbigua, Bernabe Mendez, and Salto San Martin from massive Garganta del Diablo is called Isla San Martin. It is home to a unique ecosystem bathed in fresh mist and rainbows, which supports a rainforest within the waterfalls where visitors can hike some 40m (131ft) above the Iguazu River. Ferries (included with the entry fee) leave from the Lower Circuit Trail, and drop you off at the base of a steep, 200-step cement staircase to the top. Enjoy outrageous views of San Martin and Escondido Falls to the east, and the wall of whitewater that is Rivadavia falls crashing into a basalt step formation and flowing into the Three Musketeers.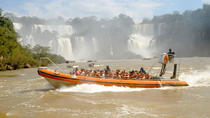 3 Reviews
Embark on this 8-hour guided adventure to the Argentinean Falls of Iguazu National Park. Discover the Tour to the Devil's Throat Circuit, Upper Circuit, and ... Read more
Location: Puerto Iguazú, Argentina
Duration: 8 hours (approx.)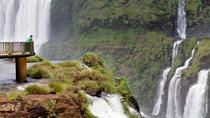 85 Reviews
Make the most of your Iguassu Falls vacation and visit both the Argentinian and Brazilian side of the falls. Combine two sightseeing tours from Puerto Iguazu ... Read more
Location: Puerto Iguazu, Argentina
Duration: 10 hours (approx.)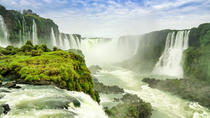 3 Reviews
Embark on a full-day (up to 8-hours) guided journey to the Argentine side of the Iguazu Falls and discover amazing views along with a healthy dose of ... Read more
Location: Puerto Iguazú, Argentina
Duration: 6 to 8 hrs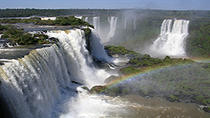 108 Reviews
Recognized world-wide, the Iguazu Falls is considered to be one of the most impressive natural beauties on Earth. With more than 200 falls reaching heights of ... Read more
Location: Puerto Iguazu, Argentina
Duration: 9 hours (approx.)
1 Review
View a network of over 270 Waterfalls, one of the seven natural wonders of the world! Enjoy a 8 km truck ride through the jungle and panoramic view of the ... Read more
Location: Puerto Iguazú, Argentina
Duration: 8 hours (approx.)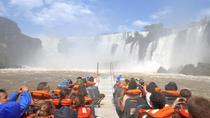 1 Review
Come visit one of the Seven Natural Wonders of the World, the Iguazú Falls. See natural beauty with this system of waterfalls that spread between ... Read more
Location: Puerto Iguazú, Argentina
Duration: 8 hours (approx.)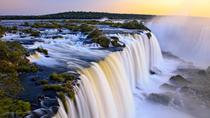 9 Reviews
Visit the Iguazu Falls, the largest waterfalls system in the world, in this unique full day tour. You will tour the Argentinian Side of the Falls which ... Read more
Location: Puerto Iguazú, Argentina
Duration: 6 hours (approx.)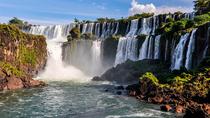 1 Review
Visit the Iguazu Falls on the Argentinian side on a full day private tour with a professional and bilingual guide, taking in the new facilities for the upper, ... Read more
Location: Puerto Iguazú, Argentina
Duration: 8 hours (approx.)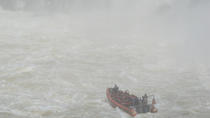 Spend a great day visiting the incredible Iguazu Falls, wonder of nature. The argentinian side, offers up to 8 km of trails to enjoy the falls in three ... Read more
Location: Puerto Iguazú, Argentina
Duration: 8 hours (approx.)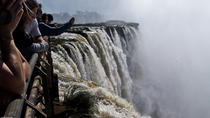 Marvel in the moonlight at the natural beauty of Iguazu Falls on this captivating 3-hour night tour. Your guide will pick you up via coach and whisk you away ... Read more
Location: Puerto Iguazú, Argentina
Duration: 3 hours (approx.)