Take a trip into the country's lush interior to Jarabacoa, the heart of the Dominican Republic's emerging eco-tourism scene.
Set in the Cordillera Central mountains (referred to as the Dominican Alps) Jarabacoa is a great spot for mountain biking and exploring the alpine trails. White-water rafting is also popular at the nearby Yaque del Norte River. Jarabacoa's biggest attraction, however, is its waterfalls.
There are three waterfalls around Jarabacoa - El Salto de Baiguate, Salto Jimenoa Uno and Salto Jimenoa Dos. The Jimenoa waterfalls are more spectacular and frequently visited than Baiguate, which is in a lush canyon and a little harder to access.
At 60m (196ft) Salto Jimenoa Uno is a tremendous sight, its icy water gushes from a hole in the rock and crashes into a huge pool. It's possible to swim here (and at all the waterfalls) but the water is bracing to say the least.
While not as dramatic as Salto Jimenoa Uno, Salto Jimenoa Dos (40m/130ft) has a more inviting swimming hole (but it's still icy cold!) and is reached via an interesting trail that takes you through a canyon and along suspension bridges.
Practical Info
It is possible to explore all the waterfalls in a day but a guide is recommended if visiting Baiguate. You can explore the Jimenoa waterfalls without a guide but, if you don't have your own transport, you may want to hire a taxi for the day.
Salto Jimenoa Uno is about 7km (4.5mi) out of Jarabacoa via the road to Constanza. Salto Jimenoa Dos is about 8km (5mi) northeast of Jarabacoa, attracts an entrance fee and is the most frequently visited of the falls.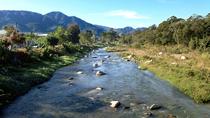 7 Reviews
A day of history and beautiful scenery as you take in the sights and history of Santiago, the first capital of the Dominican Republic, followed by a visit to ... Read more
Location: Puerto Plata, Dominican Republic
Duration: 11 hours 30 minutes (approx.)