Puerto Plata, or "Port of Silver" was discovered by Columbus way back in 1502, but has only recently become popular as more and more tourists have begun to discover it since the 1980s. Each year thousands of travellers descend on its shores for a taste of the all-inclusive holiday scene that Puerto Plata and neighboring Playa Dorada are famous for. Here's a suggestion for an action packed three day itinerary in Puerto Plata.
Day 1: Land and Water Tours
Visitors have an ample choice of both water and land tours starting with the off-road
Monster Truck Safari
through coffee plantations and the Outback Safari through sugarcane fields to the
Santiago and Jarabacoa Falls tour
which includes a visit to a cigar factory. Puerto Plata also offers multiple opportunities to cruise the Atlantic Ocean, usually with a full-course meal served on board. Popular among a host of afternoon and evening cruises is the
catamaran cruise to the bay of Sosua
.


Day 2: Beach-Hopping and Excursions
What's a visit to Puerto Plata without a day spent at its world class beaches? Sosua and Playa Dorada are known for their sun-kissed white sands and turquoise waters. They are also the heart of many fun-filled activities like paragliding, windsurfing, snorkeling and scuba-diving. If you'd like to discover other aspects of Puerto Plata's history visit the Brugal Rum Factory, the Taino Art Museum, the San Felipe Fort and the Isabel de Torres Botanical Gardens.
Day 3: Puerto Plata Animal Encounters
Adults and children are equally thrilled when they interact with a variety of sea creatures at the famous Ocean World located only a few minutes away from the heart of Puerto Plata. From dolphins to sea-lions and seals to stingrays, Ocean World has it all! The Ocean World Admission Pass includes transportation, shows and even some snorkeling while the combined dolphin, shark, and stingray encounter is the uncontested favorite among visitors.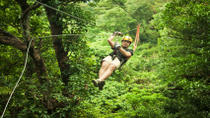 27 Reviews
Enjoy a morning adventure on this combination zipline and horseback-riding tour in Puerto Plata! Get a unique perspective of the Puerto Plata jungle as you ... Read more
Location: Puerto Plata, Dominican Republic
Duration: 4 hours (approx.)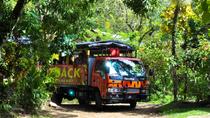 23 Reviews
Travel beyond the resorts and get to know the real Dominican Republic on this full-day tour from Puerto Plata. Admire gorgeous landscapes aboard a festive, ... Read more
Location: Puerto Plata, Dominican Republic
Duration: 7 hours (approx.)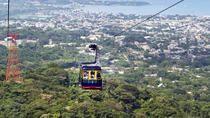 41 Reviews
Learn about the history and culture of Puerto Plata on this full-day city tour! This comprehensive city tour takes you to a variety of landmarks in Puerto ... Read more
Location: Puerto Plata, Dominican Republic
Duration: 8 hours (approx.)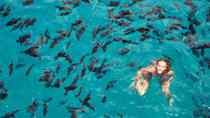 42 Reviews
Be a millionaire for a day as you sail on a 54ft catamaran along the North Coast from the Bay of Playa Dorada to the beautiful bay of Sosua. Let the wind carry ... Read more
Location: Puerto Plata, Dominican Republic
Duration: 8 hours (approx.)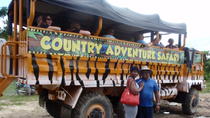 107 Reviews
Leave the urban centers of Punta Cana behind and visit the true Dominican Republic! Join a unique tour of the Dominican Republic on a Country Adventure Safari ... Read more
Location: Punta Cana, Dominican Republic
Duration: 9 - 10 hours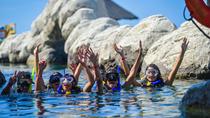 16 Reviews
Come in and explore Ocean World, the Caribbean's most extensive adventure park! Enjoy hours of unlimited enjoyment as you get the opportunity to learn about ... Read more
Location: Puerto Plata, Dominican Republic
Duration: Flexible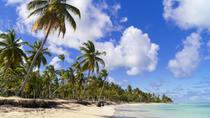 16 Reviews
Snorkel the crystal-clear lagoon surrounding Cayo Paraiso (Paradise Island) while on vacation in the Dominican Republic! Visit this natural sandbar by ... Read more
Location: Puerto Plata, Dominican Republic
Duration: 10 hours 30 minutes (approx.)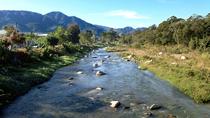 7 Reviews
A day of history and beautiful scenery as you take in the sights and history of Santiago, the first capital of the Dominican Republic, followed by a visit to ... Read more
Location: Puerto Plata, Dominican Republic
Duration: 11 hours 30 minutes (approx.)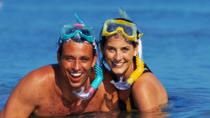 10 Reviews
Capture a piece of paradise on this adventure-filled day trip from Puerto Plata! It's all about sand and sea aboard a luxury yacht, speedboat and banana boat, ... Read more
Location: Puerto Plata, Dominican Republic
Duration: 12 hours (approx.)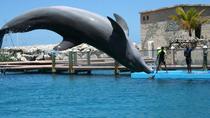 3 Reviews
Get the most out of your visit to Ocean World in Puerto Plata with this combination program! By combining the shark and dolphin programs, you have the unique ... Read more
Location: Puerto Plata, Dominican Republic
Duration: Varies