Puglia RECOMMENDATIONS See all
Coastal Puglia
By Viator, March 2016
No reviews, be the first!
As the heel of Italy's boot, Puglia packs in 500 miles (800 km) of coastline on two seas, the Ionian and the Adriatic. Both offer up one sandy beach after another, each backed with impossibly turquoise waters, and along with predictably hot weather and the wild landscape, the region closely resembles Greece, even down to its whitewashed seaside towns.
The sea is calm and warm along most of Puglia's coastline; the cliffs and sea stacks of the Gargagno in the north gradually give way to some of Italy's best beaches such as the sandy expanses at Polignano a Mare and Otranto, although south of Bari many beaches turn to pebble. The major cities of Bari and Brindisi both sit on the Adriatic and are major ports as well as gateways to the southern Mediterranean. Nonetheless, the waters around these cities remain pristine, with the marshy wetlands of the Natural Maritime Reserve of Torre Guaceto found just north of Brindisi, an area of sparkling white sand and schools of fish flitting under rocks in crystal-clear seas.
After hitting the Salento in the south, the shore turns to limestone cliffs; inlets become fjord-like in shape, beaches shrunk to miniscule sandy coves and strange rock formations line the waters' edge. Little, whitewashed hill towns perch above the sea, including Santa Maria di Leuca; moving west from there is the sandy delight of Marina di Salve, and beyond that Rivabella and Taranto, both boasting lengthy soft strips of sand, alternating neatly with rocky outcrops, lagoons and cozy little bays.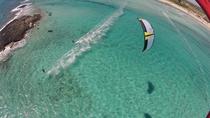 Enjoy a kite-boarding lesson and get into the kite-boarding world! With a professional IKO experienced instructor, learn more about kite-boarding in one of the ... Read more
Location: Gallipoli, Italy
Duration: 2 hours (approx.)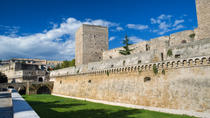 Take a private walking tour of Bari to discover the history and sights of Puglia's capital city. Visit top attractions including Castello Normanno-Svevo ... Read more
Location: Bari, Italy
Duration: 3 hours (approx.)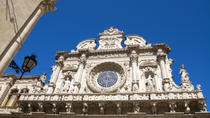 Discover the highlights of Lecce on a private walking tour with an expert guide. Known as the 'Florence of the South,' Lecce is full of beautiful Baroque ... Read more
Location: Lecce, Italy
Duration: Duration is around 3 hours.