When Magellan passed through the strait bound for Chile for the first time, he cruised on past the tiny Magdalena Island, famous for its thousands of penguins. Today, travelers make it a point to stop at this scenic island that's northeast of Punta Arenas to explore the rocky shores and get up close to the playful penguins.
Visitors can follow well-marked paths to a popular lighthouse for impressive views of the empty island, but it's the friendly penguins that walk side-by-side with travelers that really draw tourists to this natural haven outside of the region's capital.
Practical Info
Travelers can visit the island between December and March. Several boats leave from Punta Arenas, and the trip takes approximately two hours.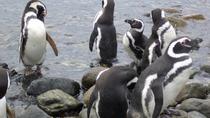 7 Reviews
Sail through the Magellan Strait to Isla Magdalena and Isla Marta, both of them form the Natural Monument Los Pinguinos, which protects more than 120,000 ... Read more
Location: Punta Arenas, Chile
Duration: 4 hours (approx.)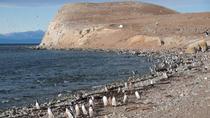 21 Reviews
Experience your own 'March of the Penguins' on Magdalena Island during a morning tour by boat from Punta Arenas. After cruising across the Strait of Magellan, ... Read more
Location: Punta Arenas, Chile
Duration: 4 hours (approx.)