The Dominican Republic is known for its spectacular beaches, and Punta Cana is no exception. But Punta Cana differs from other beaches in the region because of its year-round pleasant weather that makes its white sand beaches and aquamarine waters all the more enjoyable. If the beach isn't enough to keep you busy, here are some other interesting things to do while vacationing in Punta Cana.
Day 1: Punta Cana Beach-Hopping
Check into one of the many all-inclusive beach front resorts for the best value and quickest access to the beach. As soon as you've settled in, take out your beachwear and hit the sand and surf. Young or old, there's plenty to keep everyone busy at Punta Cana beaches like Bavaro, El Cortecito and Arena Gorda. Take your pick from scuba-diving, snorkelling, deep-sea fishing or a leisurely swim along magnificent coral reefs.  End the day with an evening cruise around the port or a catamaran cruise to Isla Saona.
Day 2: Into the Wild
If you want a rush of adrenaline, engage in some whale watching and shark spotting in their natural habitat. If there's plenty to see in the water, there's just as much excitement on land. Embark on a country adventure safari into the outback and enjoy horseback riding while you gain a true appreciation of the way of life of the people of the Dominican Republic.

Day 3: Excursions from Punta Cana

Step out of the immediate confines of Punta Cana and embark on a tour of Santo Domingo, the oldest city in the Americas. Steeped in history, Santo Domingo is a delectable blend of traditional and modern in more ways than one. For those who are shopaholics, El Conde is a must visit for the best deals and bargains. For the men who hate shopping trips, nearby Cap Cana has fantastic golf greens you'd love to tee off on. If you're staying over the night, be sure to partake in Punta Cana's vibrant nightlife as you sip on those heavenly piña coladas!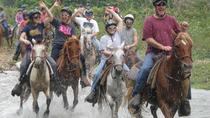 226 Reviews
A horseback riding tour with a canopy zipline adventure is a great way to take in the gorgeous scenery of Punta Cana! Walk, trot or gallop—depending on your ... Read more
Location: Punta Cana, Dominican Republic
Duration: 6 hours (approx.)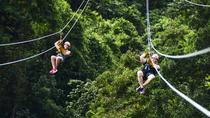 62 Reviews
Feel the wind rushing past you as you soar from platform to platform zipping on the 12 different double cables, assuring maximum safety. Enjoy with your ... Read more
Location: Punta Cana, Dominican Republic
Duration: 5 hours (approx.)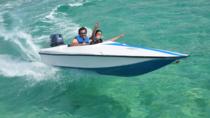 41 Reviews
Experience the beauty of the crystal-clear Caribbean above and below the surface on a 3-hour tour that combines three amazing activities in one. Drive a ... Read more
Location: Punta Cana, Dominican Republic
Duration: 3 hours (approx.)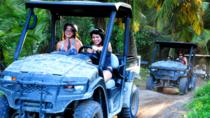 61 Reviews
Explore land and sea in Punta Cana by off-road buggy and catamaran—all in one day! With this full-day combo tour, experience the adrenaline rush of driving a ... Read more
Location: Punta Cana, Dominican Republic
Duration: 8 hours (approx.)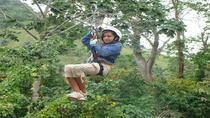 77 Reviews
Enjoy the adventure of a lifetime while flying over trees on the Zip Line Canopy Adventure, consisting of 8 different zip lines. Feel an adrenaline rush as ... Read more
Location: Punta Cana, Dominican Republic
Duration: 4 hours (approx.)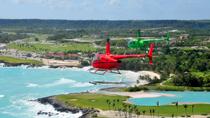 25 Reviews
Enjoy an exciting helicopter tour from Punta Cana over the Dominican Republic's southeastern beaches. As you soar through the air above this piece of ... Read more
Location: Punta Cana, Dominican Republic
Duration: 2 hours 30 minutes (approx.)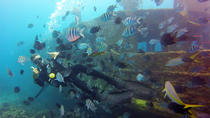 Discover the underwater world of the Caribbean Sea with a diving package in Bayahibe. Choose a package of 1 – 10 dives and have a chance to see different fish ... Read more
Location: La Romana, Dominican Republic
Duration: Flexible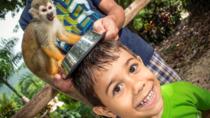 63 Reviews
Most people know a theme park inspired by one famous mouse. But one dedicated to monkeys? At Monkeyland, a natural habitat located deep in the Dominican ... Read more
Location: Punta Cana, Dominican Republic
Duration: 5 hours (approx.)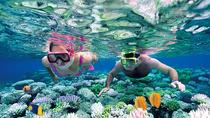 57 Reviews
Spend the day snorkeling Caribbean coral reefs on an excursion to Catalina Island from Punta Cana. Experience a snorkeling wonderland at 'The Wall' drop-off, ... Read more
Location: Punta Cana, Dominican Republic
Duration: 12 hours (approx.)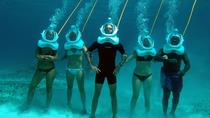 22 Reviews
Fun party onboard a modern catamaran touring the Caribbean Sea. Enjoy the chance to walk on the seabed, snorkel with sharks and sea rays, and swim in the warm ... Read more
Location: Punta Cana, Dominican Republic
Duration: 6 hours (approx.)