Point of the white canes, Punta Cana is a luxury resort destination full of wide white sand beaches, impeccably manicured golf courses, and a balmy Caribbean breeze. Growing in popularity since the 1970s, Punta Cana is a favorite getaway of the jet-setters and those looking for the dreamy island escapes of the Caribbean without having to go the extra miles to get to the Lesser Antilles. An added bonus – there are a lot of amenities in the Dominican Republic that aren't found on neighboring, smaller islands. Case in point, the number of outdoor activities that surround Punta Cana are astounding. Part of what makes a trip exciting is getting out there and exploring it all – and here are some of the best day trips from Punta Cana.
Top of the list of best day trips from Punta Cana is, without a doubt, Los Haitises National Park. This remote coastal park was, for a long time, closed to visitors and today guests are allowed only when accompanied by a guide – due to the pristine and unspoiled natural beauty of the place. Tucked away in the northeastern corner of the country, Los Haitises is a wild and lush park full of dense vegetation, mangrove swamps, and the accompanying wildlife. The beauty of San Lorenzo Bay is worth the trip in and of itself, but the accompanying frigate birds, endangered Brown Pelicans, and overhead orchids make the trip something special. Nature lover or no, you can't go wrong with Los Haitises.
The capital of the Dominican Republic is Santo Domingo, and if you missed it when you flew in, now's your chance to capture the essence of what the Dominican Republic is all about. Take a day trip to the nation's capital, and learn about the nation's rich history and Spanish-colonial architecture while doing some grade A sightseeing and souvenir shopping. The Zona Colonial (colonial zone) is a UNESCO world-heritage site, filled with awe-inspiring monuments, cathedrals, and lighthouses.
Dolphin Island tours
are a great way to get out there and do some playing with nature while exploring the best of the Dominican Republic. There are several itineraries to choose from when exploring Dolphin Island, but the most popular is typically the half-day experience where you'll spend your time swimming, feeding, laughing and playing with not only the indigenous dolphins of Punta Cana, but also the native sea lions.
Contributed by Hudson Hornick
224 Reviews
Relax on the beach, enjoy the crystalline waters or explore the tropical surrounds on a relaxing catamaran cruise to Saona Island. White sandy beaches, ... Read more
Location: Punta Cana, Dominican Republic
Duration: 10 hours (approx.)
84 Reviews
Discover the rich history, natural landscapes and magnificent colonial architecture of Santo Domingo on a full-day sightseeing tour from Punta Cana. Travel by ... Read more
Location: Punta Cana, Dominican Republic
Duration: 12 hours 30 minutes (approx.)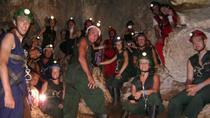 34 Reviews
Explore the magnificent underground tunnels of Fun Fun Cave in the Dominican Republic. On this day trip from the Punta Cana area, you'll have the chance to ... Read more
Location: Punta Cana, Dominican Republic
Duration: 12 hours (approx.)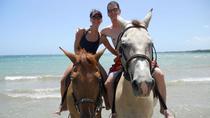 46 Reviews
Live the dream of riding a horse along tropical white-sand beaches on this day trip from Punta Cana! Gorgeous scenery, friendly guides and amazing horses make ... Read more
Location: Punta Cana, Dominican Republic
Duration: 4 hours 30 minutes (approx.)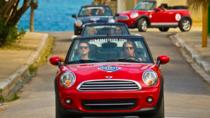 18 Reviews
Have you ever dreamed of driving a Mini Cooper convertible? Take the wheel of your own 4-person classic car and put the top down during a full-day tour from ... Read more
Location: Punta Cana, Dominican Republic
Duration: 8 hours (approx.)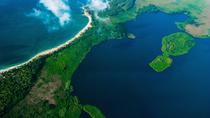 4 Reviews
Soak up all that the Samaná Peninsula has to offer on this day trip from Punta Cana. Fly over the gorgeous eastern coast of the Dominican Republic and ... Read more
Location: Punta Cana, Dominican Republic
Duration: 12 hours (approx.)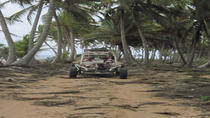 34 Reviews
Hop aboard a dune buggy for a full-day adventure and experience the best Punta Cana has to offer! Drive your manual transmission dune buggy through rice fields ... Read more
Location: Punta Cana, Dominican Republic
Duration: 9 hours (approx.)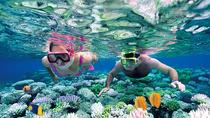 53 Reviews
Spend the day snorkeling Caribbean coral reefs on an excursion to Catalina Island from Punta Cana. Experience a snorkeling wonderland at 'The Wall' drop-off, ... Read more
Location: Punta Cana, Dominican Republic
Duration: 12 hours (approx.)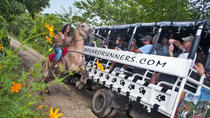 11 Reviews
Get to know the Dominican countryside aboard a safari-style vehicle on this guided day trip from Punta Cana. Up in the Anamuya mountains, visit an old sugar ... Read more
Location: Punta Cana, Dominican Republic
Duration: 8 hours (approx.)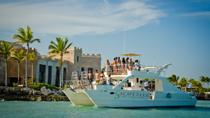 2 Reviews
Indulge in sunbathing, beachside cocktails and stunning views of glitzy Cap Cana on this day trip from Punta Cana. Dig your toes in the soft sands of Juanillo ... Read more
Location: Punta Cana, Dominican Republic
Duration: 7 hours (approx.)