Known for its pristine beaches, expansive seaside mansions, trendy shopping and stylish locals, Punta del Este is a picturesque and luxurious destination for your next vacation. To help you see a variety of sites, here is a suggested three-day itinerary.

Day 1: Beach hop!

Punta del Este is well-known for its world-class beaches, commonly being referred to as the "Monaco of South America." Depending on what you're looking for will depend on which beach you visit. For a mix of surfing, delicious food, outdoor art and a young crowd, visit Playa de los Dedos. Here, you'll find the iconic "La Mano" sculpture, five ceramic fingers emerging from under the sand like a giant awaking from a long slumber. The Atlantic water here is rough, and while good for surfing, can be dangerous for swimming. It's not a problem, however, as you can relax on the thick, golden sand and nibble on food from one of the many onsite vendors.

For something calmer, many people love Playa Mansa or Gentle Beach. This beach attracts mainly families, and its crystal waters are calm, with virtually no wind. If you'd like to see what the beautiful people look like, and possibly take in an outdoor fashion show, Bikini Beach is where you should head, as the gorgeous playa is full of society's most elite. When you're in the mood to do something a little different, like whale watching, visit "The Chilean," with transparent waters perfect for swimming, fishing and keeping an eye out for giant marine mammals. And, if you're in the mood to show some skin, Uruguay's only sanctioned nude beach, Chihuahua Beach, is in Punta del Este. The area has kind of a wild atmosphere, and there is even a section of the beach dedicated to LGBT visitors.

Day 2: Spend the day playing with sea lions

If you'd like to interact with wildlife, visit Isla de Lobos. Here, you'll find 15,000 sea lions and 250,000 specimens of South American fur seals. The area is considered a nature reserve due to the fact that it holds the largest colony of sea lions in the western hemisphere. This is also where you'll find the tallest lighthouse in South America, built in 1858 with a height of 194-feet.

You can also visit the Museum del Mar, where you can see skeletons of hundreds of marine mammals, learn about pirates, see old photos of beach-goers and view dolphin fetuses and the world's largest mussel.

Day 3: Take in a gorgeous architecture at a resort museum

Literally a giant citadel sculpture overlooking the water, Casapueblo is the house of Carlos Paez Vilaro, a famous artist from Uruguay. The building is a tribute to his son, Carlito Paez, who was one of the 16 survivors of the "Uruguayan Air Force Flight 571," also known as the "Andes Flight Disaster." Inside, you can learn about Uruguayan culture in a museum and art gallery, stay at a beautiful hotel or grab a bite to eat in the cafe. At sunset, you can take in gorgeous ocean views from the balcony while enjoying a champagne toast.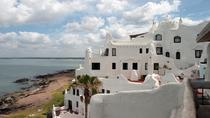 60 Reviews
Visit one of southern Uruguay's most beautiful resort towns, Punta del Este, on this day trip from Montevideo! Explore the pristine beaches of Brava and Mansa ... Read more
Location: Montevideo, Uruguay
Duration: 10 hours (approx.)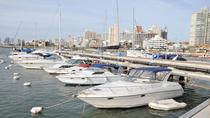 3 Reviews
Visit one of southern Uruguay's most beautiful resort towns, Punta del Este, on this 4-hour guided sightseeing tour! Explore pristine Playa Brava; and walk ... Read more
Location: Punta del Este, Uruguay
Duration: 4 hours (approx.)