Founded in 1608, Quebec City, the capital of Quebec, Canada is one of the oldest cities in North America, filled with old world charm, cobble-stoned streets and delicious food at every corner.

Aside from the tasty poutine that Quebec is known for there are a lot of other flavors that are popular through out the city. The Quebecois are very proud of their cheeses and make over 500 varieties, many of which are unpasteurized (and therefore unable to be exported) and can only be sampled and purchased in Quebec. Enjoy the cheeses as a final plate at an evening meal or grab some to enjoy with a fresh baguette. When searching for a cheese look for the "Fromages de Pays" label, which tells you it was made in the province.

Quebec City is also a place to try a variety of game. Whether you would like to taste quail, duck or goose or perhaps caribou or venison then these are generally all readily available at various restaurants throughout the city. A great restaurant to visit if you are looking for some truly Quebec dishes is Aux Anciens Canadiens. Known for their meat pie (Tourtière), their menu also features local delights like lots of game as mentioned above, a traditional baked bean dish, Pea Soup Grand-mère, maple sugar pie and more.  Oh and don't forget the poutine—they have that too.

Finish it all off with a "Poor mans pudding cake" or "pouding chômer"—a dessert cake make with cake batter and either a lot of maple syrup or brown sugar that is then baked and turned into a sugary gooey pudding like goodness. If that sounds a bit too sweet try one of the city's many local craft beers or an ice cider. Ice cider is similar to the popular Canadian ice wine however instead of grapes it is the apples that are left on the trees into the first frost of the fall season. The apples are then picked and pressed while frozen, giving off a tasty golden apple cider that is then fermented and turned into an alcoholic ice cider.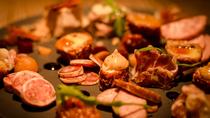 288 Reviews
Taste French-Canadian food at its finest on this flavorful, small-group walking tour of Quebec City. Eat like a true local as your in-the-know guide takes you ... Read more
Location: Quebec City, Canada
Duration: 2 hours 30 minutes (approx.)