Quebec is one of the oldest cities in North America, dating back to the 17th century, and is heavily influenced by European, especially French, culture. The city is divided between the Old Town and the more recently developed area, to the extent where you can get an elevator ride between the two. The city is also surrounded by some remarkable fortifications and some incredible natural beauty.

Day 1: Quebec City Tour
This tour is a great way to get introduced to the historical home of French Canada, taking you through the narrow lanes of Old Quebec. You'll wind along the St Lawrence River and enjoy numerous historical treasures, such as the Place Royale, the birthplace of French civilization in North America and the Plains of Abraham, where the famous battle between the French and English took place in 1759. You'll also get to enjoy the fortified city walls, which were declared as a World Heritage site by UNESCO in 1985.

Day 2: Quebec from Above
Having spent a day walking the streets of Quebec, why not take to the skies and see it from above? This hot air balloon ride will allow you to marvel at the breathtaking sites around Quebec, as well as the beauty of the city itself. Notable landmarks include the St Lawrence River, the Ile d'Orleans and the Laurentian Mountains. The temperature is the same in the air as it is on the ground.

Day 3: Montmorency Falls Day Trip
This tour takes you to Montmorency Falls, which is higher than Niagara, and to the shrine of Ste Anne de Beaupre. The trip follows the Avenue Royale, which takes you through some more rural and traditional French Canadian villages. The guide will try to re-create the tranquility and simplicity of life in these villages. This tour also takes you to the Albert Gilles Copper Art Museum and Chez Marie's bread oven.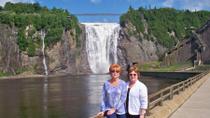 699 Reviews
Explore the beautiful countryside surrounding Quebec City on a half-day sightseeing tour to magnificent Montmorency Falls - higher than Niagara Falls - and ... Read more
Location: Quebec City, Canada
Duration: 5 hours (approx.)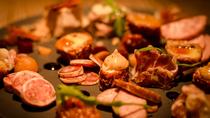 288 Reviews
Taste French-Canadian food at its finest on this flavorful, small-group walking tour of Quebec City. Eat like a true local as your in-the-know guide takes you ... Read more
Location: Quebec City, Canada
Duration: 2 hours 30 minutes (approx.)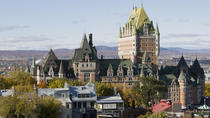 508 Reviews
Experience the highlights of Quebec City on a sightseeing tour with a friendly, knowledgeable guide. Soak up the French charm of Old Quebec and be enchanted ... Read more
Location: Quebec City, Canada
Duration: 2 hours (approx.)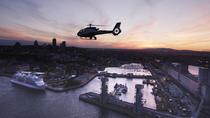 8 Reviews
Admire Quebec City from a unique vantage point on this helicopter tour! On your helicopter flight, enjoy spectacular aerial views of the city's astounding ... Read more
Location: Quebec City, Canada
Duration: 12-15 Minutes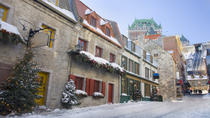 26 Reviews
Experience the magical atmosphere of Quebec City this holiday season on a gourmet food walking tour, with all tastings included. Visit eight local shops and ... Read more
Location: Quebec City, Canada
Duration: 2 hours 15 minutes (approx.)

170 Reviews
While you're in Quebec City, don't miss a chance to see some of Canada's best wildlife on a whale-watching cruise! You'll travel to Baie-Sainte-Catherine by ... Read more
Location: Quebec City, Canada
Duration: 10 hours (approx.)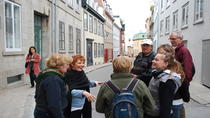 434 Reviews
Experience the period charm of Old Quebec on a two-hour guided walking tour of this historic city's many highlights. This leisurely paced, downhill walking ... Read more
Location: Quebec City, Canada
Duration: 2 hours (approx.)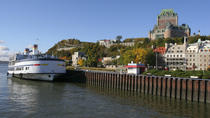 127 Reviews
See the city, the river and their history from a whole new angle on a Quebec City Historic Discoverers Cruise. Follow in the wake of a legendary explorer and ... Read more
Location: Quebec City, Canada
Duration: 90 minutes (approx.)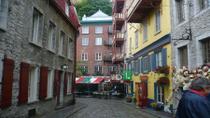 91 Reviews
One of the best ways to experience all of the charming sites of Quebec City is by foot. On this 2.5-hour private walking tour, visit Place d'Hôtel ... Read more
Location: Quebec City, Canada
Duration: 2 hours 30 minutes (approx.)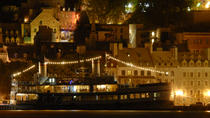 41 Reviews
Relax on a Quebec City dinner cruise as enjoy a night of fine dining and dancing. Dine on a delectable 5-course dinner with wine to match as you cruise past ... Read more
Location: Quebec City, Canada
Duration: 3 - 4 hours