Montreal is a short 155-mile (250-km) journey south of Quebec City, or about a three-hour drive by car. While both cities are extremely important to Quebec and the province's history, each is entirely different and unique in their own ways.
Several bus services run between Quebec City and Montreal, including Orleans Express and Greyhound and Canada's national railway Via Rail will take you right into the heart of Quebec City.
You can visit Montreal from Quebec City (and vice versa) in a long and busy day trip, but longer will help you better appreciate this city of 3 million people. Five days to one week is ideal, but if you're on a tight schedule, at least come for the weekend. The city is most vibrant at night, and it's only then that you start understanding its joie de vivre!
Montreal is a fairly compact city, which makes it very easy to walk just about anywhere. If you find a hotel or hostel in The Plateau or Centre-Ville area, you'll be within walking distance to most major attractions. Otherwise, a Metro station is usually not too far away.
Some of the most popular areas to explore include Saint-Catherine Street (West and East), Saint Laurent Boulevard and Saint Denis, and Vieux-Montreal (the Old Port).
Saint-Catherine Street is where you'll find much of the best shopping areas, including The Eaton Centre, and access to the underground city. Go further East, and you'll you find the gay district known as The Village. Saint-Laurent and Saint-Denis are extremely popular streets for dining and nightlife options, with everything from dive pubs to fancy nightclubs.
Vieux-Montreal is the gorgeous Old Port of the city, which is like stepping into a little piece of Europe. It's impossible not to spend hours here, with the many restaurants, galleries, buskers, and artists set up around the area.
If you do not speak any French, it is wise to bring a French-English dictionary with you. While most of the population speaks English, all signage is in French. If you are driving, do not turn right at the red light. While this is legal in the rest of Canada, it is illegal in Quebec. And when dining, a restaurants displaying an "Apportez votre vin" sign will allow you to bring outside wine into the restaurant.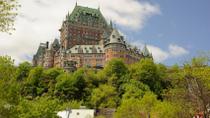 1165 Reviews
Visit the historic heart of French Canada on this day trip from Montreal to Quebec City. On your sightseeing tour, see famous landmarks including Place ... Read more
Location: Montreal, Canada
Duration: 12 hours (approx.)