Surrounded by mountains and shrouded in legend, Lake Wakatipu's crystal waters tempt visitors from near and far to enjoy its beauty. The longest lake on New Zealand's South Island, a day on Lake Wakatipu is arguably the highlight of any trip to Queenstown and the Otago region.

The Basics
The variety of tour offerings on Lake Wakatipu reflects Queenstown's reputation as a haven for the adventurous. Extreme jet boats ferry passengers to the door of a 4WD for an off-road adventure in the Southern Alps or Paradise Valley; helicopter tours fly lovebirds over the lake, Fiordland, and Milford Sound to a romantic picnic atop Cecil Peak; and fishing charters promise a good catch from the lake's stock of salmon and trout.
Those seeking serenity will be equally pleased with their options, from cruising aboard the vintage steamship TSS Earnslaw en route to dinner at Walter Peak High Country Farm to gliding along the river on a catamaran cruise while taking in the view of the Remarkables mountain range. View the lake itself from Saint Omer Park, Queenstown Gardens, the Queenstown Trail, or the many bars and restaurants on the southern shoreline in central Queenstown.
Tour options are available for families and solo adventurers alike.

Be sure to dress in layers, as wind can pick up suddenly.

Tours range from short, 90-minute excursions to full-day, eight-hour adventures.




How to Get to Lake Wakatipu
Queenstown is located right on the lake, so any trip to this popular city will include easy lake access. Additional access points abound between Kingston on the south end and Glenorchy on the north end. Tours usually include round-trip pickup and drop-off from Queenstown.

When to Get There
The Southern Lakes region is a year-round travel destination, offering phenomenal skiing in the winter and hiking in the summer. Lake activities are more popular during the warmer months, although the glacier-fed lake remains cold regardless of the season.

Legendary Shores
Atmospheric pressures cause the water level in the lake to rise and fall about five inches (12 cm) every five minutes. This gave rise to the Maori legend that the rise and fall of the water is the heartbeat of a giant who lies slumbering under the water. Modern storytellers chose the lake as a filming location for the Lothlorein scenes in 'The Lord of the Rings.'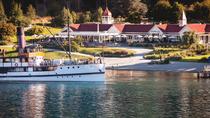 30 Reviews
A return scenic cruise from Queenstown Bay, across stunning Lake Wakatipu to Walter Peak High Country Farm on our vintage steamship TSS Earnslaw, a farm tour ... Read more
Location: Queenstown, New Zealand
Duration: 3 hours 30 minutes (approx.)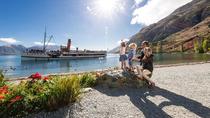 85 Reviews
Join a scenic cruise to Walter Peak on board the vintage steamship TSS Earnslaw, departing from Queenstown. Upon arrival experience rural New Zealand as ... Read more
Location: Queenstown, New Zealand
Duration: 3 hours 30 minutes (approx.)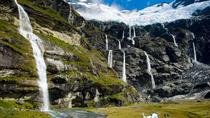 3 Reviews
Experience an unforgettable Helicopter Picnic in the stunning Middle Earth Waterfalls of the Earnslaw Burn with exclusive landing rights!  Once you are ... Read more
Location: Queenstown, New Zealand
Duration: 2 hours (approx.)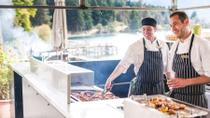 58 Reviews
Get a taste of New Zealand farm life with dinner at Walter Peak Country Farm. Start your evening cruising along the calm waters of Lake Wakatipu from ... Read more
Location: Queenstown, New Zealand
Duration: 4 hours (approx.)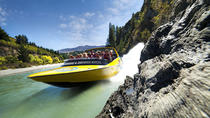 8 Reviews
Hang on during this thrilling jet boat ride that travels at high speeds on two rivers, covering more ground with a longer time out on the water than similar ... Read more
Location: Queenstown, New Zealand
Duration: 90 minutes (approx.)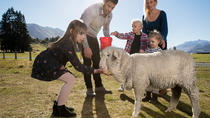 19 Reviews
Discover New Zealand's Lake Wakatipu and Mt Nicholas high country on a catamaran cruise and 4WD tour from Queenstown. Cruise to the lake's western shore while ... Read more
Location: Queenstown, New Zealand
Duration: 3 hours 30 minutes (approx.)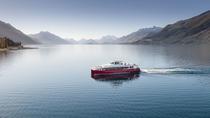 7 Reviews
Enjoy exploring New Zealand's gorgeous Lake Wakatipu on a catamaran cruise from Queenstown. Surrounded by stunning mountains including the Remarkables and the ... Read more
Location: Queenstown, New Zealand
Duration: 90 minutes (approx.)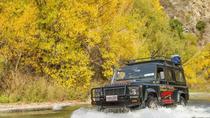 An adventure safari packed with breathtaking scenery, thrilling 4WD action whilst discovering LOTR filming locations. Visit the filming locations of Minas ... Read more
Location: Queenstown, New Zealand
Duration: 4 hours (approx.)
Glenorchy is nestled on the northern shores of Lake Wakatipu & is the home to what many say is NZ's best hidden scenery and not to ... Read more
Location: Queenstown, New Zealand
Duration: 4 hours (approx.)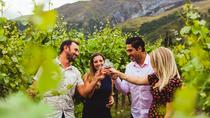 Altitude Tours boasts a fleet of luxury Mercedes Vans ensuring optimum style and comfort during your Wine Sampler Tour.  Combining the latest in technology ... Read more
Location: Queenstown, New Zealand
Duration: 5 hours (approx.)