In the late 1800s, the Shotover River was a storied outpost of gold, prospectors, and wilderness. Dust-covered panhandlers would camp in canyons in the foothills of the Southern Alps, and scour the raging, turquoise waters with the hope of striking it rich. Today, adrenaline and adventure have replaced sluicing and straining as the most popular pursuits on the river, as the Shotover has become the aquatic playground of visitors traveling to Queenstown.
Bounce down frothing, blue and white rapids while paddling a whitewater raft, or try not to smile as your cheeks flap wildly on a high-speed jetboat up the river. The Shotover drains into the Kawarau River beneath the famous Kawarau Bridge, and you can dip your hands in the cool waters after bungy-jumping from the historic trestle. Even the drive towards the Shotover River is an outdoor adventure in itself, as the road leading into Skipper's Canyon is a winding, mountainous time portal. 
Practical Info
The Shotover River is located north of Queenstown, and most rafting companies will drive for 40 minutes before putting on the river. When rafting, the Shotover River has larger rapids than the neighboring Kawarau River, and also passes through the 560ft. Oxenbridge Tunnel. It's considered more advanced than the Kawarau River and all rafters must be able to swim.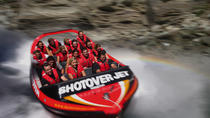 76 Reviews
Feel a rush of adrenaline as you skim the surface of the Shotover River by jet boat! Hold on tight as you do fishtail turns and 360-degree spins at high speeds ... Read more
Location: Queenstown, New Zealand
Duration: 25 minutes (approx.)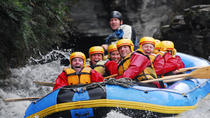 22 Reviews
Experience the exhilarating adrenaline pumping rapids of this infamous river.
Location: Queenstown, New Zealand
Duration: 4 hours 30 minutes (approx.)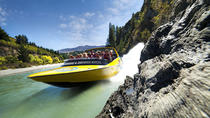 8 Reviews
Hang on during this thrilling jet boat ride that travels at high speeds on two rivers, covering more ground with a longer time out on the water than similar ... Read more
Location: Queenstown, New Zealand
Duration: 90 minutes (approx.)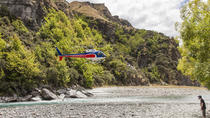 5 Reviews
Shotover River Heli Rafting is the only way to experience Shotover River rafting in winter as well as summer!
Location: Queenstown, New Zealand
Duration: Varies