Aside from being situated on the waters of Lake Wakatipu, what makes Queenstown such a popular destination for South Island travelers is the way in which it's centrally located to many of the area's best attractions. While bungy jumping, skydiving, and jetboating in Queenstown are some of the popular activities, those who choose to venture a couple of hours outside of the city will be rewarded with some of New Zealand's most photo-worthy terrain.
Without a doubt, one of the best day trips from Queenstown is a
day trip to Milford Sound
for a chance to marvel at the sheer cliffs and protected fjords which make the area so famous. Although it's a lengthy, 2.5-hour drive from the starting point in Queenstown, the feeling of gazing vertically up granite mountain slopes as waterfalls tumble from the clouds above is an experience which makes the drive completely worth it. Once at the literal end of the road, embark on one of the numerous tour boats which cruise the waters of the sound, remembering to keep your eyes peeled for playful dolphins or even a rare type of whale.
If a single day in Fiordland just isn't going to be enough time, and you truly want to immerse yourself in the heart of the glacial landscape, consider taking an overnight cruise to Doubtful Sound to experience why this area is known as the poetic "sound of silence". Further south than neighboring Milford and on the far side of Lake Manapouri, Doubtful Sound was discovered by the famous Captain Cook who was "doubtful" that his large vessels could navigate the narrow passageway, and 250 years later it remains remote and formidable outpost in the heart of rugged Fiordland.
Or, for a completely different experience that has nothing to do with fjords, one of the best day trips from Queenstown is to head east in to the Otago wine country for a day of touring the southernmost wine region in the world, one which is rapidly challenging Oregon in the quality of its pinot noir. Finally, to the north, the shores of Lake Wanaka provide a calm respite from popular Wakatipu, and the medium-sized town is a popular vacation destination for hiking enthusiasts, water sports afficionados, or skiers during the winter months looking to tackle slopes of Treble Cone.
Contributed by Kyle Ellison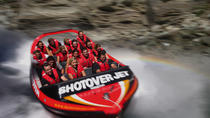 56 Reviews
Feel a rush of adrenaline as you skim the surface of the Shotover River by jet boat! Hold on tight as you do fishtail turns and 360-degree spins at high speeds ... Read more
Location: Queenstown, New Zealand
Duration: 25 minutes (approx.)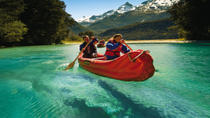 17 Reviews
Discover the untamed beauty of the UNESCO World Heritage-listed Mount Aspiring National Park on this full-day Dart River 'funyak' (inflatable canoe) and jet ... Read more
Location: Queenstown, New Zealand
Duration: 9 hours (approx.)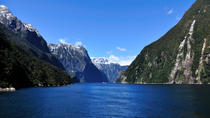 176 Reviews
Discover Milford Sound on a full-day trip from Queenstown. You'll travel through beautiful Fiordland in a luxury coach with panoramic windows and take an ... Read more
Location: Queenstown, New Zealand
Duration: 12 hours 30 minutes (approx.)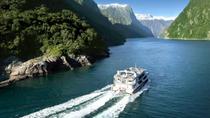 1 Review
Discover Milford Sound on a full-day trip from Te Anau to Queenstown. Travel through the beautiful Fiordland National Park and be mesmerized by the grandeur of ... Read more
Location: Te Anau, concludes Queenstown, New Zealand
Duration: 9 hours 30 minutes (approx.)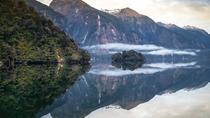 50 Reviews
Be struck by the beautiful silence of Doubtful Sound as you cruise the crystal waters and take in the breathtaking scenery. Journey across Lake Manapouri, ... Read more
Location: Queenstown, New Zealand
Duration: 12 hours (approx.)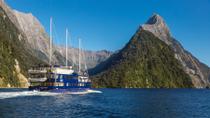 13 Reviews
Treat yourself to the ultimate Milford Sound experience on this day trip from Queenstown that allows you to see this world-famous fiord region by land, sea and ... Read more
Location: Queenstown, New Zealand
Duration: 10 hours (approx.)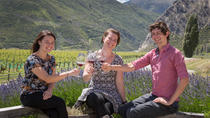 40 Reviews
Experience the beauty of Central Otago, its fine wines, rich gold history and welcoming people. This Central Otago wine tour from Queenstown will take you into ... Read more
Location: Queenstown, New Zealand
Duration: 5.5 or 7 hrs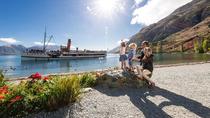 67 Reviews
Experience rural New Zealand as you're taken on a walking tour of the farm. Learn about traditional farming practices and the significance of the various ... Read more
Location: Queenstown, New Zealand
Duration: 3 hours 30 minutes (approx.)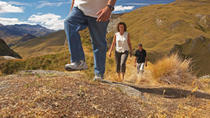 20 Reviews
Discover the beauty of Skippers Canyon on this half-day 4WD tour from Queenstown. Leave behind the hustle and bustle of Queestown and travel 32 kilometers by ... Read more
Location: Queenstown, New Zealand
Duration: 4 hours (approx.)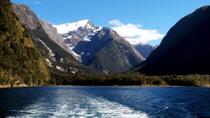 Travel through the World Heritage listed Fiordland National Park and enjoy a Milford Sound cruise on this full-day one-way trip departing Queenstown and ... Read more
Location: Queenstown, concludes Te Anau, New Zealand
Duration: 10 hours (approx.)