Immerse yourself in the majestic beauty of Milford Sound on our full-day trips from Queenstown. Carved by a massive glacier in the last ice age, Milford Sound is one of the most treasured regions of the World Heritage Fiordland National Park.
Your journey starts along Lake Wakatipu traveling beneath the rugged Remarkables to Te Anau. Entering Fiordland National Park to the Mirror Lakes, through Upper Hollyford Valley and past stunning Christie Falls. The road climbs to the Homer Tunnel, emerging above the CleddauValley and descending to Milford Sound.
One of the best ways to check out the breathtaking pristine scenery, marine and bird life is a cruise aboard the Milford Sound Red Boat. See waterfalls, wilderness, and wildlife including seals, dolphins and penguins, and learn about the rich history and environment of the Sound.
Fancy a visit to Fiordland along with the Milford Heaven cruise and BBQ Lunch?
Driving north along Lake Te Anau and into Fiordland National Park you travel alongside the Eglington River to view mountain lakes and ancient alpine forest, then link up with the Milford Heaven for an excursion on the fiord. Enjoy the spectacular landscape and wilderness of Milford Sound, while looking out for seals and dolphins!
Experience the grandeur of Milford Sound from the land, sea and sky on a full-day tour from Queenstown including return trip by helicopter or light plane, to see why this region is so unique.
First travel through magnificent alpine landscapes on the scenic journey from Queenstown to Milford Sound, board a nature cruise to sail the length of the fiord to the Tasman Sea, and enjoy a scenic helicopter flight that returns you to Queenstown. Soaring over Milford Sound is the ultimate breathtaking experience, with views of alpine scenery, glaciers, rivers, lakes and rainforest.
Alternatively, after the cruise, join your light aircraft for a scenic flight from Milford Sound over the Southern Alps and back to Queenstown. Experience panoramic views of fiords, mountains, glaciers, and lush native rainforest before flying past the Sutherland Falls and over the McKinnon Pass. The flight is internationally acclaimed as one of the most magnificent flights in the world, with spectacular views of the World Heritage status Fiordland National Park.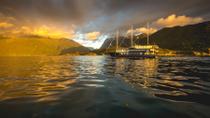 18 Reviews
An overnight cruise amidst spectacular Milford Sound, is a once in a lifetime experience. While on board the Milford Mariner you will cruise the full length ... Read more
Location: Queenstown, New Zealand
Duration: 2 days (approx.)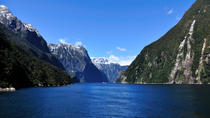 176 Reviews
Discover Milford Sound on a full-day trip from Queenstown. You'll travel through beautiful Fiordland in a luxury coach with panoramic windows and take an ... Read more
Location: Queenstown, New Zealand
Duration: 12 hours 30 minutes (approx.)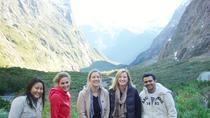 169 Reviews
Milford Sound is arguably the most scenic destination in New Zealand, a must-see for any traveler. This is a small group tour for travelers seeking a ... Read more
Location: Queenstown, New Zealand
Duration: 13 hours (approx.)
1 Review
For the most engaging way to experience the riches of Fiordland National Park. This tour includes three modes of transport on land, sea and in the air ... Read more
Location: Queenstown, New Zealand
Duration: 9 hours (approx.)
58 Reviews
Admire the spectacular sights of Milford Sound on a scenic cruise! As you marvel at one of the world's most incredible natural wonders, see dolphins, ... Read more
Location: Queenstown, New Zealand
Duration: Varies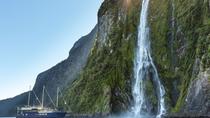 6 Reviews
Immerse yourself in New Zealand's stunning natural scenery over two days with this Queenstown Super Saver. On your first day, you'll take a cruise on the ... Read more
Location: Queenstown, New Zealand
Duration: 2 days (approx.)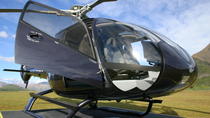 This 4 hour tour gets you quickly over to Milford Sound from Queenstown by helicopter and stops on the way back for a truly alpine experience. The stunning, ... Read more
Location: Queenstown, New Zealand
Duration: Flexible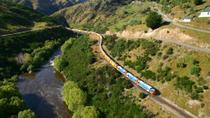 4 Reviews
Experience the natural beauty and history of New Zealand's South Island on a 3-day tour to Milford Sound, Te Anau, Dunedin, Taieri Gorge and Pukerangi. Travel ... Read more
Location: Queenstown, New Zealand
Duration: 3 days (approx.)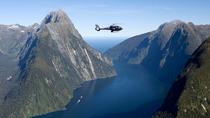 View alpine lakes, rivers, forests, glacial valleys, and ice capped mountains from above with this 2-2.5 hour helicopter tour. Fly over the fiord and enjoy ... Read more
Location: Queenstown, New Zealand
Duration: 2 hours (approx.)