Day Trips from Quito
By Viator, May 2016
Perched on the cusp of the northern hemisphere, against a backdrop of the dramatic Andes, Quito's unique setting makes it the perfect launch pad for exploring the varied Ecuadorian countryside. Towering mountains, lush rainforest and lively market towns are all within easy reach of the city, so to help you prioritize, here are some of the best day trips from Quito.

Cotopaxi National Park
Just an hour away from the hustle of the capital, Cotopaxi National Park is a natural playground of green valleys, rugged mountains and riverside farms, set around a 5,900 meter volcano. If you don't fancy scaling the volcanic peak – famously South America's most active volcano – there are plenty of less challenging pastimes to take part in. Horse riding, mountain biking, hiking, rafting and bird watching are all popular activities, with numerous day and multi-day treks available.

Mindo Rainforest
With its close proximity to the mighty Amazon rainforest, Quito makes a strategic starting point for exploring South America's rainforests and the Mindo Nambillo Cloud Forest Reserve is just 2 hours from the city center. Hike through the mist-shrouded forests, past rivers and natural waterfalls, while learning about the diverse ecosystems of the cloud forest. Keep your eyes peeled for wildlife too - a myriad of rare birds, butterflies and orchids are native to the jungle, showcasing a startling array of colors.

Papallacta Thermal Springs
Ideal for a post-hike day of recuperation, the natural hot springs of Papallacta lie around 2 hours east of Quito and are renowned for the healing properties of their mineral-rich waters. The picturesque mountain valley resort lies at an altitude of 3,300 meters and is served by a number of luxury spas where weary travelers can indulge in everything from mud wraps and aromatherapy massages, to tailored health and rehabilitation treatments in the hydro-massage baths.

La Mitad del Mundo
Ecuador famously lies on the equator line and the chance to stand with one foot in the northern hemisphere and one in the southern hemisphere has proven an irresistible tourist attraction. The monument of La Mitad del Mundo, or 'the Middle of the World', and a symbolic yellow 'equator line' marks the spot, but the site is also home to a planetarium, an ethnographic museum and a number of restaurants.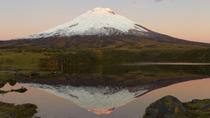 34 Reviews
Get the best of all worlds and combine history, nature and shopping on a full day guided tour from Quito. You'll witness spectacular scenery, see the active ... Read more
Location: Quito, Ecuador
Duration: 8 hours (approx.)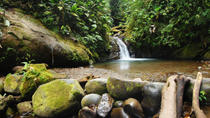 6 Reviews
Explore the diverse natural landscapes of Ecuador on a private tour of the Mindo Nambillo Cloud Forest Reserve from Quito. See gorgeous waterfalls and rushing ... Read more
Location: Quito, Ecuador
Duration: 8 hours (approx.)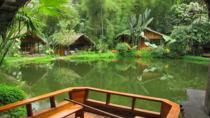 1 Review
Depart from Quito, where you can appreciate the impressive change of vegetation and climate, to reach the area Mindo Cloud Forest. Enjoy a hike in the ... Read more
Location: Quito, Ecuador
Duration: 8 hours (approx.)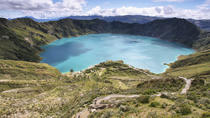 Enjoy an overnight tour to Antisana and Quilotoa Lagoon from Quito. Travel along the Avenue of the Volcanoes and admire the Ecuadorian highlands. Head to ... Read more
Location: Quito, Ecuador
Duration: 2 days (approx.)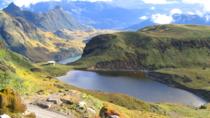 After breakfast we depart from Quito to the Papallacta Thermal Baths. This is a very pleasant spa and hotel ideal to relax on the slopes of the Antisana ... Read more
Location: Quito, Ecuador
Duration: 8 hours (approx.)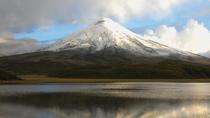 Visit Cotopaxi National Park with this full-day private tour departing from Quito. Visit the interpretation center, Lake "Limpiopungo" and hike the highest ... Read more
Location: Quito, Ecuador
Duration: 8 hours (approx.)