Golden Circle Route
Iceland is spectacular and so is the Golden Circle Route. The wide open landscapes are like nothing you've ever seen before. Actively volcanic, this inland route is a mass of waterfalls, glaciers, geysers, lava fields, and, of course, those volcanoes. The first stop is Thingvellir National Park, the spectacular site of Iceland's first parliament and the place where the Eurasian and North American tectonic plates meet - and are moving apart. There is a widening fissure in the ground where the planet is literally opening up. Next it's on to Gullfoss waterfall, a huge fall of water. From here you can see a glacier off to one side. And then it's geysers. The sheer power of water and steam erupting from the ground due to the build up of extreme heat is awesome and really makes you realize how alive the ground is beneath our feet. 
On the road back to Reykjavik, you pass through the Hveragerdi greenhouse village, an example of how the Icelanders harness the power beneath the earth to live in this often tough, if beautiful, environment. Passing the geothermal power plant at Nesjavellir is another example: electricity is the country's main export! (As it's a bit difficult to send electricity over the oceans, overseas companies establish metal smelters etc in Iceland to use the plentiful electricity.)
Practical Info
The best way to see the Golden Circle highlights of Iceland is with an organized tour. It's a 185 mile (300 kilometer) loop, some of the roads are rough, and in winter snowy, but the tourist buses are designed to cope with the terrain.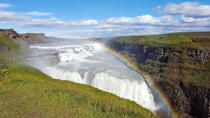 7 Reviews
Your day starts at 9am with hotel pickup before spending 8 hours exploring the beauty of Iceland with your guide/driver.  This private full-day tour takes ... Read more
Location: Reykjavik, Iceland
Duration: 8 hours (approx.)
2 Reviews
On this fully packed 11-hour day trip we combine the famous Golden Circle with visits to some local farms and restaurants for tastings of delicious Icelandic ... Read more
Location: Reykjavik, Iceland
Duration: 11 hours (approx.)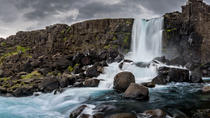 The tour starts in the afternoon and visits area highlights such as Þingvellir National Park, Gullfoss Waterfall and Geysir Geothermal Spring. You will ... Read more
Location: Reykjavik, Iceland
Duration: 11 hours (approx.)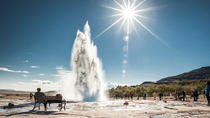 159 Reviews
This grand Golden Circle tour takes you to the most popular sights where you can experience the three highlights of the South West of Iceland: Geysir, Gulfoss ... Read more
Location: Reykjavik, Iceland
Duration: 8 hours 30 minutes (approx.)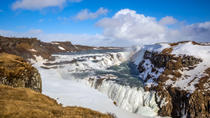 1561 Reviews
Want to see some of the best-known natural phenomena in Iceland on a day trip from Reykjavik? From spouting geysers, tumbling waterfalls and ancient ... Read more
Location: Reykjavik, Iceland
Duration: 8 hours 30 minutes (approx.)
9 Reviews
This tour combines the very popular Golden Circle tour with the adventure of a lifetime - a one-hour snowmobile ride on Langjökull glacier, Iceland's ... Read more
Location: Reykjavik, Iceland
Duration: 10 hours (approx.)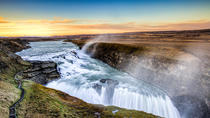 73 Reviews
Explore the unique volcanic and arctic nature of Iceland. This Golden Circle Afternoon tour is a shorter version of the Grand Golden Circle tour and a great ... Read more
Location: Reykjavik, Iceland
Duration: 6 hours (approx.)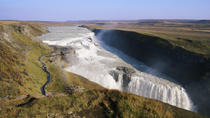 37 Reviews
Discover the otherworldly landscapes and relaxing thermal powers of Iceland on this day trip from Reyjavik. With an expert guide, see the Nesjavellir power ... Read more
Location: Reykjavik, Iceland
Duration: 8 hours 30 minutes (approx.)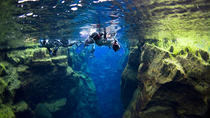 21 Reviews
Snorkel at Silfra Fissure in the UNESCO-listed Thingvellir National Park, and visit incredible Golden Circle attractions on this day trip from Reykjavik! After ... Read more
Location: Reykjavik, Iceland
Duration: 10 hours (approx.)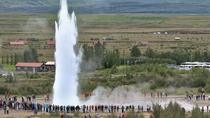 9 Reviews
We are very proud to announce that Iceland Golden Travel has been awarded Boutique Tour Operator of the Year in Iceland, in the 2017 Holiday & Tour ... Read more
Location: Reykjavik, Iceland
Duration: 7 hours (approx.)