Silfra Fissure Tours
The famous site where it is possible to literally stand between two tectonic plates! Located in the turquoise Þingvallavatn Lake in the Þingvellir National Park (a UNESCO World Heritage site), Silfra is part of a rift in the divergent tectonic boundary between the North American and Eurasian plates.
The way fissures are created is quite simple: as the tectonic plates drift apart (roughly two centimeters per year), tension builds up between the earth mass and the two plates, occasionally provoking a major earthquake and fissuring the earth mass in the process. Depending on their altitude and location, fissures may end up being submerged. In Silfra's case, its translucent waters travel all the way from Iceland's second largest glacier, Lángjökull, arriving in Þingvellir after a 30 to 100 year ride through underground and porous lava rock. Consequently, Silfra's water temperature rarely surpasses the 2°C – 4°C mark.
The marine life in Silfra doesn't contain much fish—they would much rather swim in the nearby, warmer waters of Þingvallavatn Lake—but many different types of algae can be seen, mostly of the bright green string kind, an underwater landscape unlike anything else. Because of its exceptional setting and conditions, Silfra is a popular destination for snorkelers and scuba divers, as it boasts the clearest waters in the world—visibility can reach up to 150 meters.
Practical Info
It's possible to visit Silfra, Þingvellir National Park and Iceland's Golden Circle on day trips from Reykjavik. Silfra is located 45 minutes outside of Reykjavik (52 kilometers) via Route 1, Route 36 through Þingvellir and Route 361. Parking is readily available on-site or nearby at the Þingvellir visitor center. It is not recommended to dive or snorkel alone.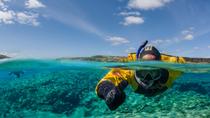 43 Reviews
Snorkel between two continents during this incredible experience in Thingvellir National Park. After pickup from your Reykjavik hotel, travel to the ... Read more
Location: Reykjavik, Iceland
Duration: 5 hours 30 minutes (approx.)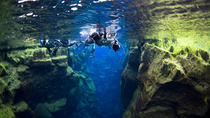 98 Reviews
Go cave exploring and snorkeling in one incredible day on this day trip from Reykjavik. Visit Iceland's Gjábakkahellir cave and the Silfra fissure, both ... Read more
Location: Reykjavik, Iceland
Duration: 8 hours (approx.)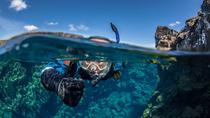 28 Reviews
Snorkel at Silfra Fissure in the UNESCO-listed Thingvellir National Park, and visit incredible Golden Circle attractions on this day trip from Reykjavik! After ... Read more
Location: Reykjavik, Iceland
Duration: 9 hours (approx.)