With vast glaciers, glistening fjords and looming volcanoes all within a few hours drive of Reykjavik, exploring Iceland's otherworldly wilderness couldn't be easier. To fuel your wanderlust, here are some of the best
day trips from Reykjavik
.
1. The Golden Circle
One of the most popular tours from Reykjavik is a circular route around the dramatic Thingvellir National Park, the geothermal valley of Haukadalur and the thundering Gullfoss Waterfalls – a 300-km loop nicknamed the 'Golden Circle'. Covering some of Southern Iceland's most breathtaking scenery, the Golden Circle takes in the famous Geysir geyser, the Keiro volcanic crater and the Hellisheiðarvirkjun Geothermal Power Plant.
2. Sólheimajökull Glacier
Discover the vast frozen landscapes of the
Sólheimajökull glacier
tongue by hiking through its icy heart. A glacial hiking and ice climbing expedition on the Sólheimajökull glacier takes in bubbling water cauldrons, natural ice sculptures, sinkholes and vast ice walls. Tours often include a visit to one of Iceland's largest waterfalls – the Skógafoss Falls.
3. Reykjanes Peninsula
The youngest volcanic landscapes in the country are located on the enchanting Reykjanes Peninsula and exploring the vast lava fields makes for some spectacular photo opportunities. Visit the sulphur springs at Seltun, walk the banks of the majestic Lake Kleifarvatn or take a dip in the famous Blue Lagoon, a natural pool of geothermic seawater that's renowned for its healing properties.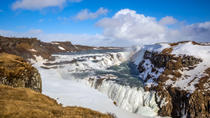 1867 Reviews
Want to see some of the best-known natural phenomena in Iceland on a day trip from Reykjavik? From spouting geysers, tumbling waterfalls and ancient ... Read more
Location: Reykjavik, Iceland
Duration: 8 hours 30 minutes (approx.)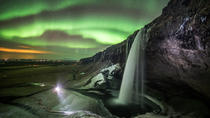 454 Reviews
Adventure through the dramatic landscape of Iceland during this full-day tour of the southern coastline. Explore lava fields, icebergs, and glaciers with help ... Read more
Location: Reykjavik, Iceland
Duration: 10 hours (approx.)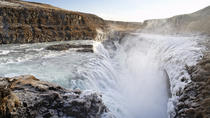 263 Reviews
Take an afternoon tour from Reykjavik to experience geysers, waterfalls and some of the most exciting natural phenomena Iceland has to offer. In just six hours ... Read more
Location: Reykjavik, Iceland
Duration: 6 hours (approx.)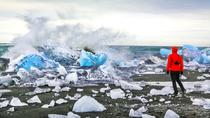 258 Reviews
Head out to the magnificent glacial lagoon Jokulsarlon, and follow in the footsteps of James Bond in "Die Another Day" and Lara Croft in "Tomb ... Read more
Location: Reykjavik, Iceland
Duration: 14 hours (approx.)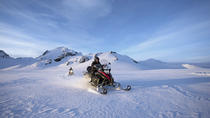 70 Reviews
This tour combines the very popular Golden Circle tour with the adventure of a lifetime - a one-hour snowmobile ride on Langjökull glacier, Iceland's ... Read more
Location: Reykjavik, Iceland
Duration: 10 hours (approx.)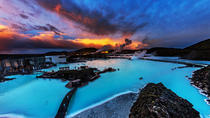 140 Reviews
The Golden Circle and the Blue Lagoon are two of the most famous attractions in Iceland.  Join this tour to discover both in a unique one day adventure.  ... Read more
Location: Reykjavik, Iceland
Duration: 11 hours (approx.)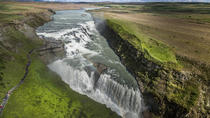 65 Reviews
The Golden Circle is a collection of Iceland's most famous natural wonders and a must-see for any visitor to Iceland. You will see the famous erupting geyser ... Read more
Location: Reykjavik, Iceland
Duration: 7 hours 30 minutes (approx.)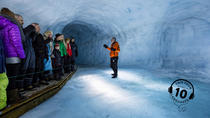 8 Reviews
On this day trip from Reykjavik, you'll discover what lies beneath the surface of a glacier as well as the surface of the earth as you visit a man-made ice ... Read more
Location: Reykjavik, Iceland
Duration: 11 hours (approx.)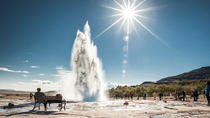 318 Reviews
This grand Golden Circle tour takes you to the most popular sights where you can experience the three highlights of the South West of Iceland: Geysir, Gulfoss ... Read more
Location: Reykjavik, Iceland
Duration: 8 hours 30 minutes (approx.)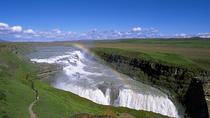 69 Reviews
Embark on a 7- to 8-hour Golden Circle guided tour, departing from your Reykjavik hotel. Travel by comfortable minibus and experience one of Iceland's most ... Read more
Location: Reykjavik, Iceland
Duration: 8 hours (approx.)