Its sloping vineyards, medieval castles and hilltop villages are undeniably picturesque, but the Rheingau region is most famous for its celebrated Riesling wines. Stretching along the northern banks of the mighty Rhine River, the Rheingau region runs west of Mainz from the town of Hochheim to Lorch, just north of Rüdesheim, and is acclaimed as one of Germany's smallest, but most important wine growing regions.

Around 3,000 hectares of vineyards are sprawled throughout the region, which has been producing Riesling and Pinot Noir wines since Roman times and garnered fans as influential as Queen Victoria of England. In fact, it was during Victorian times that the British term 'Hock' was coined – a nickname still used for German white wines, even those not originating from Hochheim.

It's no surprise that the majority of visitors to the area come to visit the wineries, tour the vineyards and enjoy wine tastings, and three wine main tasting trails run around the region. The Rheingauer-Riesling driving route, the Riesling Radwanderweg cycle path and the Rieslingpfad hiking route all pass through the key wine-growing villages of Eltville, Kiedrich and Oestrich-Winkel, among others. The Rheingau also hosts a number of wine festivals throughout the growing and harvest season, most notably the 10-day Rheingau Gourmet Festival, held in late April or early May to mark the start of the wine season and the annual August Rheingauer Wein Woche (Wine Week) in Wiesbaden, famous for hosting the 'longest wine bar of Europe' with some 1,500 wines available to taste. The town of Erbach also hosts a Strawberry Festival each June, celebrating its berry and grape harvests by mixing gallons of traditional Strawberry Wine.

The famous grapes aren't the Rheingau's only draw card though – many of the region's towns and villages make pleasant stop-offs for those traveling along the Rhine. The magnificent Eberbach Abbey, a 12th century gothic style monastery, is one of the region's most celebrated tourist attractions, renowned for its 800-year history of wine cultivation. Today, the Abbey is the cultural heart of the Rheingau wine region, home to the Germany Wine Academy, and a popular spot for wine tasting.

The historic wine-making town of Rüdesheim, part of the UNESCO World Heritage listed Middle Rhine Valley, makes a popular destination for day-trippers, with its jumble of half-timber houses and cobblestone streets running through its Old Town and a number of sights including the Rheingau Wine Museum, Ehrenfels Castle and the nearby Saint Hildegard monastery. High in the hills above Rüdesheim, the Niederwald monument is one of the most iconic symbols of the Rhine – a 125-foot tall monument dedicated to the victims and victors of the Thirty Years War - and further upstream, the town of Assmannshausen is as famous for its natural mineral baths as it is for its acclaimed Pinot Noir wines.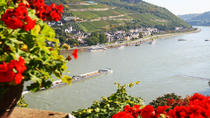 382 Reviews
See the best of Germany's Rhine River Valley on a half-day or full-day trip from Frankfurt. As a time-friendly way to see the Rhine Valley, both trips include ... Read more
Location: Frankfurt, Germany
Duration: Varies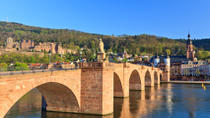 99 Reviews
Visit two of Germany's most charming places on a full-day trip from Frankfurt. With an expert guide to show you around Heidelberg, you'll explore the ruins at ... Read more
Location: Frankfurt, Germany
Duration: 11 hours (approx.)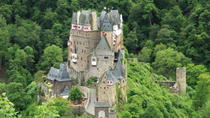 18 Reviews
Follow the footsteps of medieval lords and aristocrats on a tour of Eltz Castle, and then enjoy dinner on the banks of the Rhine! This must-do day trip from ... Read more
Location: Frankfurt, Germany
Duration: 8 hours (approx.)