Enjoy the lush Rhine Valley from it's best vantage point - the Rhine itself!  Discover the beauty of the KD Rhine Pass, hop on and off as many times as you like from Cologne to Mainz, and on the Moselle between Koblenz and Cochen. See a cool castle? Disembark and explore. Hop off at Bonn to wander its winding lanes and visit Beethoven's house, then watch the sunset from the Rhine with a nice German pilsner. Dream of castles and fairy tales while enjoying the breathtaking scenery, cruising by paddle steamer on the Nostalgic Route. Narrow lanes, medieval architecture and romantic half-timbered houses combine to make charming Braubach "the town of wine and roses."
As you travel down the Rhine, enjoy near-constant stunning views of the beautiful valleys buttressing the river , as you pass by beautiful riverside towns. One classic Rhine route takes you past the Loreley Rock to the picturesque town of Rüdesheim. The Rüdesheim Wine Festival is held every summer, with the coronation of the Weinkönigin ("Wine Queen") and her princesses. Visit the Abbey of St. Hildegard of Bingen, Siegfried's Mechanical Music Instruments and the medieval Torture Museum. 
Visit the remains of the Roman Fort of Boppard, and Bad Salzig Spa Park. Victor Hugo described Bacharach (named for Bacchus, the ancient Roman God of wine) as one of the "world's prettiest towns." Marvel at the beautiful hilltop castles and lush green hills as you cruise along the river with the barges.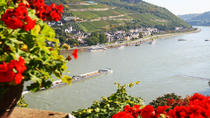 466 Reviews
See the best of Germany's Rhine River Valley on a half-day or full-day trip from Frankfurt. As a time-friendly way to see the Rhine Valley, both trips include ... Read more
Location: Frankfurt, Germany
Duration: Varies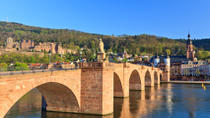 103 Reviews
Visit two of Germany's most charming places on a full-day trip from Frankfurt. With an expert guide to show you around Heidelberg, you'll explore the ruins at ... Read more
Location: Frankfurt, Germany
Duration: 11 hours (approx.)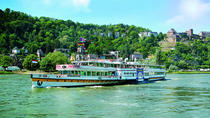 63 Reviews
Koblenz is the gateway to the Middle Rhine UNESCO World Heritage site and is happily situated on not one but two world-famous rivers - the Rhine and the ... Read more
Location: Koblenz, Germany
Duration: 1 day (approx.)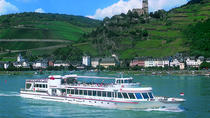 119 Reviews
An easy way to start your romantic day on the Rhine: Present your KD ticket onboard any KD ship and enjoy all scheduled day cruises on the Rhine and Moselle ... Read more
Location: Mainz, Germany
Duration: Flexible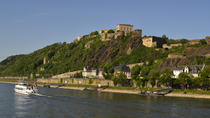 22 Reviews
Ride in the Koblenz cable car, visit Ehrenbreitstein Fortress and enjoy a River Rhine cruise – all in one day! Take a cable car ride to the fortress either ... Read more
Location: Koblenz, Germany
Duration: 8 hours (approx.)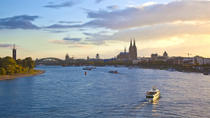 29 Reviews
An easy way to start your romantic day on the Rhine: Present your KD ticket onboard any KD ship and enjoy all scheduled day cruises on the Rhine river for one ... Read more
Location: Cologne, Germany
Duration: Flexible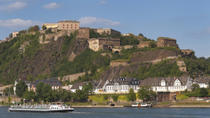 48 Reviews
An easy way to start your romantic day on the Rhine: Present your KD ticket onboard any KD ship and enjoy all scheduled day cruises on the Rhine river for one ... Read more
Location: Koblenz, Germany
Duration: Flexible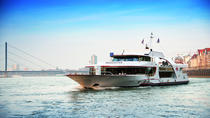 5 Reviews
Cruise along the lovely Rhine River on this morning or afternoon sightseeing cruise from Düsseldorf. Settle into the comfortable MS Warsteiner and enjoy ... Read more
Location: Dusseldorf, Germany
Duration: 60 minutes (approx.)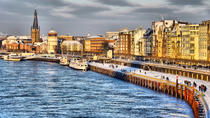 2 Reviews
Soak up the holiday spirit on this 2-hour afternoon cruise on the Rhine River from Düsseldorf. Enjoy lovely wintry views of Düsseldorf's Old Town and ... Read more
Location: Dusseldorf, Germany
Duration: 2 hours (approx.)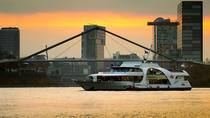 Capture the Christmas spirit on this Rhine River cruise from Düsseldorf as you listen to a DJ playing Christmas music and indulge in a sumptuous buffet ... Read more
Location: Dusseldorf, Germany
Duration: 3 hours (approx.)