4 Reviews
Address:

Greece

Hours:

Tues-Fri: 8am - 7:40pm Sat-Mon: 8am - 2:40pm

Admission:

General: €6
Acropolis of Lindos
One of Rhodes' three most prominent ancient cities, the site of Ancient Lindos lies 45km south of modern day Rhodes city, making a popular attraction for those intrigued by the history of ancient Greece. Founded by the Dorians in 10th century BC, Lindos was once a major trading center connecting Greece to the Middle East, before falling into decline after the city of Rhodes was established in the fifth century.
Today, the modern town of Lindos has grown up in the shadow of the acropolis and a 14th century medieval castle surrounds the ruins of the ancient citadel, keeping watch over the town from its dramatic clifftop perch. Standing proud atop the 116-meter tall rock, the remains of the acropolis include the Doric Temple of Athena Lindia, dating back to around 300BC; parts of the 20-columned Hellenistic stoa; and a 5th-century BC propylaeum (temple entrance). Outside of the castle walls, the dilapidated remains of an ancient theater hint at a former 1,800 capacity auditorium, although all that is left is a mere section of seating.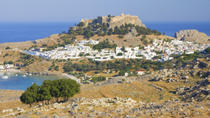 1 Review
Discover the ancient village of Lindos with its stunning 4,000-year-old acropolis on a 4-hour sightseeing tour! With an expert private guide, travel to Rhodes' ... Read more
Location: Rhodes, Greece
Duration: 4 hours (approx.)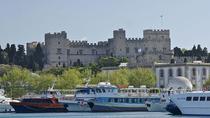 Private tour with English speaking driver and air conditioned vehicle including the highlights of Rhodes New and Medieval Town & Lindos Acropolis.
Location: Rhodes, Greece
Duration: 5 hours (approx.)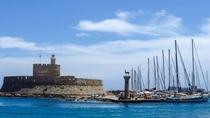 Private full day tour with English-speaking driver and air-conditioned vehicle. Your tour includes the highlights of Rhodes New and Medieval Town, Lindos ... Read more
Location: Rhodes, Greece
Duration: 7 hours (approx.)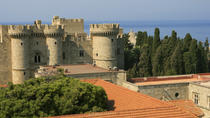 Explore the poster-child village of Lindos with its 4,000-year-old acropolis, and then explore Rhodes Old Town with its enchanting medieval sights. The ... Read more
Location: Rhodes, Greece
Duration: 7 hours (approx.)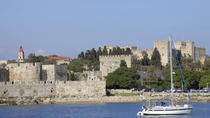 3 Reviews
After your cruise ship docks at the Port of Rhodes, enjoy a full-day shore excursion to the village of Lindos and Rhodes Old Town, led by a private guide. ... Read more
Location: Rhodes, Greece
Duration: 7 hours (approx.)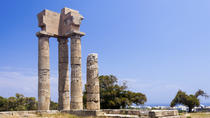 Visit the ancient village of Lindos and its impressive 4,000-year-old acropolis on a 4-hour shore excursion from Rhodes! With an expert private guide at your ... Read more
Location: Rhodes, Greece
Duration: 4 hours (approx.)
Take in the magnificent beauty of Lindos from the sparkling waters just off the east coast of Rhodes during this peaceful boat trip. Enjoy plenty of free time ... Read more
Location: Rhodes, Greece
Duration: 8 hours 30 minutes (approx.)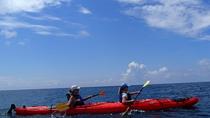 Your coastline and secret beach adventure will bring you to the rocky coastline in front of the town of Archangelos, and two isolated beaches with red sands, ... Read more
Location: Rhodes, Greece
Duration: 7 hours (approx.)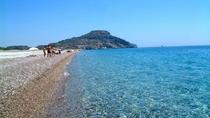 A great opportunity for the guests to have a relaxing day while cruising with the boat along the coasts of Rhodes Island (Lindos,Kalathos,Agathi, Kokkini Ammos ... Read more
Location: Lindos, Greece
Duration: 8 hours (approx.)