Rio de Janeiro RECOMMENDATIONS See all
Rio de Janeiro Carnival
By Viator, January 2017
No reviews, be the first!
With five days of dazzling parades held at Rio's iconic Sambadrome, street parties erupting all around the city and more than 500,000 visitors flying in from all around the globe, Rio de Janeiro is famous for hosting the world's biggest, boldest and brightest carnival celebrations and there's no experience quite like it.  
The highlight of carnival season is attending one of the spectacular night parades at the Sambadrome, which sees the city's 14 top Samba Schools compete with ever-more impressive parades, featuring flamboyant samba dancers, glittering costumes and gigantic floats. Be sure to pre-book your carnival parade tickets, as they are sure to sell out, or opt for a five-night Rio de Janeiro Carnival package and discover the best of the city during the annual carnival.
Even if you're not in the city for the party season, you can get a taste of Rio's legendary carnival celebrations all year-round, with a behind-the-scenes visit to the Cidade do Samba, where the samba schools build their elaborate floats, costumes and headdresses, or watching a Carnival Rehearsal at one of the city's top samba schools.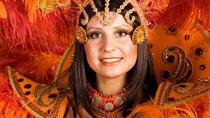 Revel in the all-night excitement of Rio de Janeiro's annual Carnival (Carnaval) parade, famous throughout Brazil – and the rest of the world – for its ... Read more
Location: Rio de Janeiro, Brazil
Duration: Varies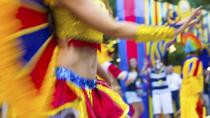 Can't make it to Rio for Carnival? You can still rock the night away at a top samba school, which practices throughout the year for the legendary parade. Hit ... Read more
Location: Rio de Janeiro, Brazil
Duration: 4 to 7 hours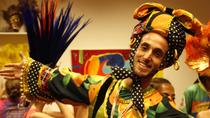 Psst — over here. Get a good peek into Rio's Carnival on this half-day tour behind the scenes of the behemoth celebration. Travel to Cidade do Samba, where the ... Read more
Location: Rio de Janeiro, Brazil
Duration: 3 hours 30 minutes (approx.)
Enjoy Carnival 2017 in style at this six-room lounge in the Sambadrome. The lounge has decoration inspired by the essence of Brazil. You will enjoy music ... Read more
Location: Rio de Janeiro, Brazil
Duration: 8 hours (approx.)
There is a lot of emotion at Carnival in Rio de Janeiro, a famous event because of its extravagant costumes and music. Enjoy views of the samba school's ... Read more
Location: Rio de Janeiro, Brazil
Duration: 8 hours (approx.)
Enjoy the best block party the Rio de Janeiro Carnival has to offer. Your group will meet and prepare for 4 hours of excitement, dancing and singing. ... Read more
Location: Rio de Janeiro, Brazil
Duration: 4 hours (approx.)