From Ronaldo's record setting World Cup goals to Pele's hat-trick of World Cup victories, few countries have churned out so many legendary international soccer players as Brazil, so it's no surprise that football is serious business in Rio de Janeiro. With Brazil set to host the 2014 FIFA World Cup, it seems everyone in Rio has caught football fever and from the beach to the favelas, everywhere you turn, you'll see local kids kicking a ball around a makeshift goal.

If you're not lucky enough to get tickets for the 2014 World Cup games, there are still plenty of opportunities to watch world-class soccer in Rio with regular games by the city's four local teams - Flamengo, Botafogo, Fluminense and Vasco. Rio's football season runs from January through till May, with local teams competing for the Gunabara's Cup and Rio's Cup, after which the Brazilian Championship games take place from May until December, featuring 20 teams from around the country.

Watching a Soccer Match in Rio de Janeiro is a quintessential Rio experience and the electric atmosphere of a world class football game will give you a taste of the country's ardent passion for the game. For the full experience, pick up a soccer shirt or scarf in support of your favorite team and get your guide to teach you the words to some of the popular chants, so you can join the lively crowds in cheering on the top players.

Rio's principal stadium is the Maracana, built in time for the 1950 FIFA World Cup, and in 2014 the iconic stadium will become the second stadium in the world to host 2 World Cup finals. Closed for renovations in preparation for the World Cup and the 2016 Olympics, Flamengo and Fluminense games will be held at the 47,000-capacity João Havelange stadium in the meantime.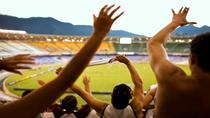 32 Reviews
If you love football, you won't want to miss the chance to see a soccer match in Rio de Janeiro! Come watch one of Brazil's passions and watch the best teams ... Read more
Location: Rio de Janeiro, Brazil
Duration: 6 hours (approx.)