The beaches of Rio de Janeiro are the stuff of song and legend, and they certainly live up to their billing. An entire state unto itself rather than a single city, Rio sees nearly three million visitors a year and is Brazil's biggest tourist attraction. This is due in no small part to the 80 miles (128.7 km) of sparkling, sandy shores that border this marvel of South American civilization.

The muse of Basa Nova hits and aspiring romantics, Ipanema Beach is the more glamorous sister of the equally legendary Copacabana. Divided up into areas of interest (the family section, the gay section, the aging-intellectual section, etc.), Ipanema has something for everyone.

The aforementioned Copacabana Beach is the iconic poster child of tourist brochures the world over. The 2.5 miles (4 km) of sandy expanse may not be the state's best—its sidewalks can get decidedly seedy and even occasionally dangerous after dark—it is easily its most famous.

Rio's beaches can also be enjoyed from the water via any number of boat trips and cruises that tour the coastline and explore the many harbors and coastal features. Sumptuous lunch cruises complete with a delectable array of seafood and refreshments can be enjoyed while passing the beaches of Niterói, the only Brazilian city to have been founded by non-Christian, non-assimilated Amerindians. An island lunch can be had as part of an ambitious agenda aboard a cruise around the Angra dos Reis archipelago. Along the way, you'll take in Guanabara Bay and glimpse the magnificent Sugar Loaf Mountain.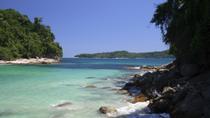 52 Reviews
Head out of Rio for the day, where a schooner awaits to take you on a cruise of the turquoise blue waters and islands of Angra dos Reis. With roundtrip hotel ... Read more
Location: Rio de Janeiro, Brazil
Duration: 12 hours (approx.)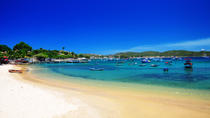 31 Reviews
Take a day trip from Rio de Janeiro to experience the cosmopolitan style, quaint charm and elegant architecture of Buzios. Walk through the town on a guided ... Read more
Location: Rio de Janeiro, Brazil
Duration: 13 hours (approx.)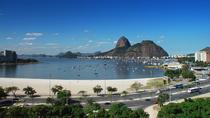 69 Reviews
Spend half a day sailing on Guanabara Bay, for the most beautiful views of Rio de Janeiro with Sugar Loaf Mountain towering in the distance. Pass the bay's ... Read more
Location: Rio de Janeiro, Brazil
Duration: 4 hours (approx.)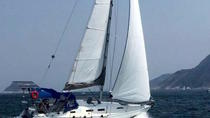 Discover Rio de Janeiro by boat on a private sailing boat photo tour and take home a digital photo album of this amazing trip as a memory to last for a life ... Read more
Location: Rio de Janeiro, Brazil
Duration: 6 hours (approx.)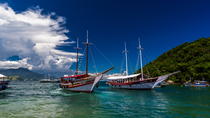 Located 2 hours south of Rio in the Green Coast area of Angra dos Reis, Ilha Grande holds one of the most beautiful landscapes in the Brazilian coast.  Blessed ... Read more
Location: Rio de Janeiro, Brazil
Duration: 12 hours (approx.)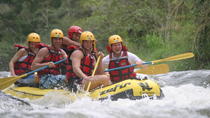 Our Rafting Trip happens 2 hours away by car, from Rio de Janeiro city, in the country side of Rio state in a little town called Casimiro de Abreu The whole ... Read more
Location: Rio de Janeiro, Brazil
Duration: 8 hours (approx.)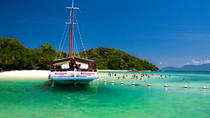 Enjoy a private tour to the islands of Angra do Reis to enjoy the blue waters and the colors of the Atlantic rainforest. Ride a boat to the islands where you ... Read more
Location: Rio de Janeiro, Brazil
Duration: 12 hours (approx.)
Have you ever imagined floating in the crystal clear waters of the most beautiful Brazilian beaches? And in that moment you will be surrounded by Atlantic ... Read more
Location: Rio de Janeiro, Brazil
Duration: 14 to 15 hrs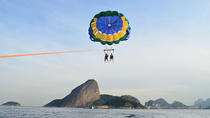 Parasailing in Rio is certainly one of the most enjoyable activities you can find here. Imagine how it would be soaring over the Atlantic Ocean, across the ... Read more
Location: Rio de Janeiro, Brazil
Duration: 4 to 6 hrs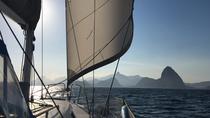 View the 'The Marvelous City' of Rio de Janeiro from the ocean on your 4-hour small-group sailing tour. Enjoy the city scapes of Rio de Janeiro, Niteroi City, ... Read more
Location: Rio de Janeiro, Brazil
Duration: 4 hours (approx.)