The Pre-Columbian civilization of the Maya was a famously advanced culture that peaked in around 250 to 900 AD, with a fully developed written language, architecture, astronomical and mathematical systems.
Mayan influence spread from central Mexico to Honduras, Guatemala and El Salvador, and the descendants of this civilization continue to live in the Maya area.
The most famous site within the Riviera Maya is Tulum, in a peerless cliff-top setting overlooking the Caribbean. You won't find many better-preserved coastal sites, and the mix of mysterious history and idyllic beach setting complete with palm trees is hard to beat.
Tulum was a defensively constructed fort settlement, protected by rugged cliffs and steep walls with watch towers. The walls of the main temple may have crumbled a little, and some of the surrounding perimeter walls have disappeared, but a visit to Tulum transports you to another age. Traces of murals can be seen, including examples of the "diving god" to whom the temple was dedicated.
The Yucatan's most famous site is the ceremonial center of the Maya, Chichen Itza, guarded by the Toltecs' plumed serpent. With its stepped pyramids, ball courts, temples and platforms, Chichen Itza draws scores of visitors from Cancun, particularly during the spring equinox when a trick of the light reveals a serpent crawling down the Temple of Kukulcan.
The largely unexcavated sites at Coba also draw visitors, though in much smaller numbers. The peninsula's tallest temple pyramid, the Nohoch Mul, is at Coba, with spectacular views of unexplored jungle surrounding the site.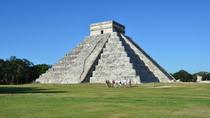 12 Reviews
Visit Chichen Itza — one of the most important Mayan sites in Mexico — on this full-day trip from Cozumel. With a knowledgeable guide, travel by ... Read more
Location: Cozumel, Mexico
Duration: 13 hours (approx.)
54 Reviews
Immerse yourself in Mayan culture at Chichen Itza, one of the new Seven Wonders of the World, where a private entrance awaits you – without the lines! ... Read more
Location: Merida, Mexico
Duration: 8 hours (approx.)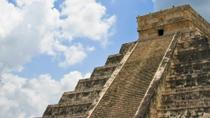 69 Reviews
Unlock the mysteries of the ancient Mayan culture on this fascinating full day sightseeing tour from Riviera Maya. Chichen Itza is a famous archaeological ... Read more
Location: Riviera Maya, Mexico
Duration: 12 hours (approx.)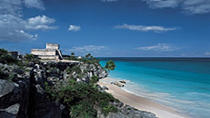 15 Reviews
Venture to the mysterious ruins of Tulum on a full day trip from Riviera Maya and enjoy the view as you explore this abandoned walled city towering above the ... Read more
Location: Riviera Maya, Mexico
Duration: 12 hours (approx.)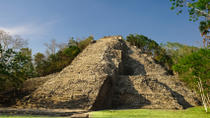 38 Reviews
Leave Cancun and Riviera Maya behind and take a day trip to the stunning Mayan ruins of Coba. Climb to the top of the tallest pyramid in the Yucatan peninsula ... Read more
Location: Cancun, Mexico
Duration: 10 hours (approx.)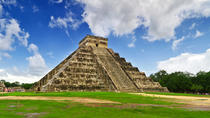 After your cruise ship docks in the Progreso port, take a shore excursion to Chichen Itza! You'll pass through a private entrance at Mayaland Resort ... Read more
Location: Merida, Mexico
Duration: 6 hours 30 minutes (approx.)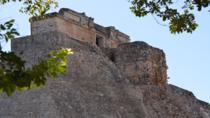 4 Reviews
Discover the architectural marvel of Uxmal, one of the largest and most significant of the ancient Mayan cities on the Yucatan Peninsula! This overnight trip ... Read more
Location: Merida, Mexico
Duration: 2 days (approx.)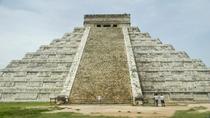 1 Review
See one of the new Seven Wonders of the World – Chichen Itza – and unearth the mysterious power of the Maya in the Balankanche Caves. This two-day ... Read more
Location: Merida, Mexico
Duration: 2 days (approx.)