The famous Riviera Maya combines ancient Mayan culture, modern-day resorts and water sports action galore. The absolute best time to visit is September to December, though any time of year is prime time. From Cancun on the northern coast to Xcaret and south to Tulum in the state of Quintana Roo, the Riviera Maya is filled with coastal and cultural attractions.
Day 1: Theme Parks Galore
The water and wildlife eco-park at Xcaret has a mystical Mexican theme, with lagoons and landscaped gardens, dolphin swims and spectacular entertainment. Zipline courses and cave rafting crank up the adrenaline at the Xplor adventure park, and at Xel-Ha you can swim with dolphins for a one-on-one encounter in nature's largest aquarium and water park.
Day 2: Beach Babies
The Riviera Maya beaches come in all shapes and sizes, from white-sand sunning and beachside Mayan ruins at Tulum, downtown stretches of sand at Puerto Morelos, and resort facilities at Puerto Aventuras marina for reef adventures, kayaking and beach bars. Go snorkeling on Isla Mujeres off the coast from Cancun, dive the turquoise waters surrounding the island of Cozumel, or just lie back in a hammock strung between palm trees at Playa del Carmen or a secluded beach hideaway.
Day 3: Wildlife Action
Scan the Caribbean waters for turtles and whale sharks, manatees and other sea life, and enjoy interactive swims with dolphins. Dip your toes in a hidden cenote (pool) or underground river in the jungle near Tulum, or go deep-sea fishing for tarpon and marlin in the blue Caribbean Sea.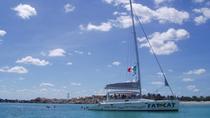 26 Reviews
Imagine cruising along the Riviera Maya on a luxury 45 foot (14 meter) catamaran, snorkeling in the crystal clear waters, and lazing in the sun while enjoying ... Read more
Location: Playa del Carmen, Mexico
Duration: 4 hours (approx.)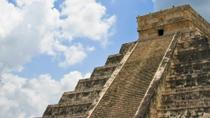 69 Reviews
Unlock the mysteries of the ancient Mayan culture on this fascinating full day sightseeing tour from Riviera Maya. Chichen Itza is a famous archaeological ... Read more
Location: Riviera Maya, Mexico
Duration: 12 hours (approx.)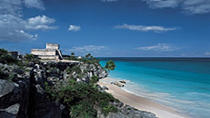 15 Reviews
Venture to the mysterious ruins of Tulum on a full day trip from Riviera Maya and enjoy the view as you explore this abandoned walled city towering above the ... Read more
Location: Riviera Maya, Mexico
Duration: 12 hours (approx.)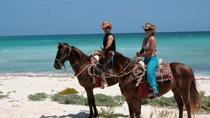 1 Review
Experience the exotic surrounds of Mexico on horseback with this relaxing day tour. Ride your horse through the tropical Caribbean landscape and enjoy a day ... Read more
Location: Riviera Maya, Mexico
Duration: 4 hours 30 minutes (approx.)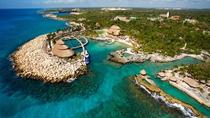 10 Reviews
Come and explore this sacred paradise in the heart of the Riviera Maya. See how much you can pack into one day when you visit the botanical garden, aviary, ... Read more
Location: Riviera Maya, Mexico
Duration: 14 hours (approx.)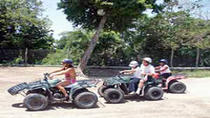 4 Reviews
Take a ride on the wild side! Drive your own fully automatic All Terrain Vehicle through the tropical landscape of the Riviera Maya area. This your is ... Read more
Location: Riviera Maya, Mexico
Duration: 2 hours (approx.)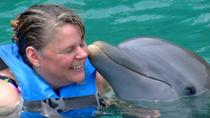 The ultimate sea life experience! Discover the secrets behind some of the world's most intriguing sea creatures, including manatees and dolphins! Interact and ... Read more
Location: Riviera Maya, Mexico
Duration: 3 hours (approx.)
2 Reviews
Visit the UNESCO World Heritage-listed Chichen Itza – the Yucatan's most popular archaeological site – plus enjoy a zipline and snorkeling ... Read more
Location: Riviera Maya, Mexico
Duration: Valid for 2 days