172 Reviews
Address:

Viale dei Romagnoli 717, Ostia Antica 00119, Italy

Hours:

Open Tues - Sun 8:30am - 7pm (4pm in winter)

Admission:

Adults: € 6.50
Ancient Ostia
Ostia was the port city of ancient Rome. Once a thriving city of around 60,000 people, today it gives an excellent look into ancient lives with docks, warehouses, apartments and mansions, shops, baths and temples. Founded around 600 BC as a source for salt to preserve meats, it was conquered by Rome in around 400 BC in order to become the city's fortress and port at the mouth of the Tiber River.

As Rome expanded, it needed a bigger port so Ostia was abandoned. When the Roman Empire fell, Ostia became a ghost town - even the river moved away over time and Ostia became buried under river mud. This is what preserved it and leads some to now compare its preservation to that of Pompeii.
Practical Info
Things to see at Ostia Antica include the necropolis, the Baths of Neptune with its mosaic, the grand Square of the Guilds, the warehouses, Via Casa di Diana (a street of apartments and taverns), and the Forum with its temple. The theatre still hosts performances in summer months. There is also a museum housing archeological items.

The best way to reach Ostia is on a tour (click the tour & tickets tab) or on a local train. Catch the metro to Piramide, which is also the Roma Porta San Paolo train station. Follow the signs to Lido, take the train (they only go in the one direction) and get off at Ostia-Antica. Then cross the sky-bridge and continue straight until you reach the parking lot: the entrance to Ostia Antica is on your left.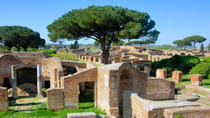 295 Reviews
Escape to Ostia Antica and see why experts are calling it "The Better Pompeii". It is just a step away from Rome and you'll travel in a personalized ... Read more
Location: Rome, Italy
Duration: 4 to 4.5 hours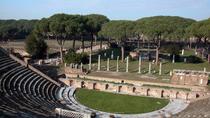 7 Reviews
Relive the glory of Ancient Rome with us on a guided visit to Ostia Antica! Visit this once lively harbor town founded in the 4th century BC. Ancient Ostia is ... Read more
Location: Rome, Italy
Duration: 5 hours (approx.)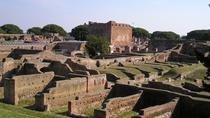 3 Reviews
If you want to see what real life was like in an ancient Roman town, visit the excavation at Ostia with our small-group tour (maximum 10 people). This tour ... Read more
Location: Rome, Italy
Duration: 3 hours 30 minutes (approx.)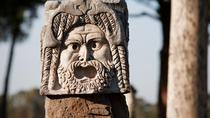 162 Reviews
Follow the sea road to Imperial Rome's historic port at Ostia on a half-day morning tour. It takes only 30 minutes to reach Ostia Antica, at the mouth of the ... Read more
Location: Rome, Italy
Duration: 4 hours (approx.)