39 Reviews
Address:

Vatican Museums, Vatican City, Rome, Italy

Hours:

Museum open daily 9am-4pm

Admission:

Only accessible via private tour
Bramante Staircase Tours
Upon exiting the Vatican Museums, visitors have the opportunity to wind their way down the impressive 1930s double-helix staircase designed by Guiseppe Momo, but don't mistake these steps for the iconic Bramante Staircase of 1512, designed by the innovative Donato Bramante, who lays claim to an immense amount of the Vatican's architecture. This set spins down and out of the Pio-Clementine Museum. This staircase is only visited by tourists on specialized tours through the Vatican and served as the inspiration for the more visible Vatican Museums steps.
The Bramante Staircase was designed in the architectural style known as the double-helix, which essentially means there are two layers to the stairs, allowing people to go upwards without meeting those walking down the stairs, and vice-versa. The design is best compared to a strand of DNA, with two layers of twisting spirals layered on top of one another, and commissioned by Pope Julius the Second, the original purpose of the Bramante Staircase was to connect the Belvedere Palace to the city of Rome below.
Practical Info
The Bramante Staircase is only open to specialized tours at the Vatican Museums. The museums open at 9 a.m. and close at 4 p.m. They are closed on Catholic holidays and on every Sunday other than the last Sunday of each month, when entrance is free between 9 a.m. and 12:30 p.m.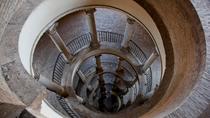 104 Reviews
While many Vatican tours include whistle-stop views of the art, this exciting 4.5-hour tour focuses on the Vatican Museum's bounty of artistic treasures, with ... Read more
Location: Rome, Italy
Duration: 4 hours 30 minutes (approx.)
This is a sharing tour up to 15 people and you will visit with an enthusiastic and friendly guide, the Vatican areas normally closed to the public with ... Read more
Location: Rome, Italy
Duration: 3 hours (approx.)