443 Reviews
Address:

Via Vittorio Veneto 27, Rome, Italy

Hours:

Fri-Wed 9am-7pm

Admission:

Adults: €6
Capuchin Crypt Tours
The Capuchin Crypt was once thought of as one of Rome's more offbeat attractions, but it has become increasingly popular and is now on many a must-see list. Underneath the church of Santa Maria della Concezione dei Cappuccini, there is a series of six small chapels that serve as the burial chambers for Capuchin friars. These are no ordinary graves, however. There were more friars to be buried in the crypt's sacred soil – brought directly from Jerusalem – than there was space, so older graves were dug up and the bones of the dead monks were used to decorate the chapel walls.
Today, visitors can still see the incredibly intricate designs adorning the walls and curved ceilings of the chapels. A sign in the last chapel reminds us that we are just as the occupants of these chapels once were – and we will eventually be just like them, too. It's a slightly macabre stop, not necessarily recommended for children or the squeamish, but it's also not meant to be like a haunted house. This is a sacred burial space, treated with respect by the people who buried their dead here.
Practical Info
The Santa Maria della Concezione church is on Via Veneto, not far from Piazza Barberini. The Capuchin Crypt is underneath the church with its own designated entrance. The crypt and museum are open Friday-Wednesday from 9am-7pm. Admission is €6, including both the crypt and the museum, and there is no photography allowed in the crypt.
2208 Reviews
Discover Rome's hidden delights and quirky sites on a 3.5-hour walking tour of the underground catacombs, Capuchin Crypt and the Basilica of San Clemente. The ... Read more
Location: Rome, Italy
Duration: 3 hours 30 minutes (approx.)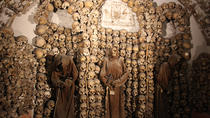 118 Reviews
This world-first walking tour takes you into the Catacombs after dark, introducing you to one of Rome's most important cities of the dead. You'll also get to ... Read more
Location: Rome, Italy
Duration: 2 hours 30 minutes (approx.)
72 Reviews
Rome is a city that has built and rebuilt upon itself for thousands of years. Our Crypts, Bones & Catacombs tour is designed to take you deep down into the ... Read more
Location: Rome, Italy
Duration: 3 hours (approx.)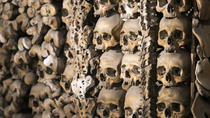 2 Reviews
Uncover the ancient secrets hidden beneath the surface of modern Rome during this 2.5-hour guided tour, visiting the spectacular Capuchin 'Bone Chapel'. Enjoy ... Read more
Location: Rome, Italy
Duration: 2 hours 30 minutes (approx.)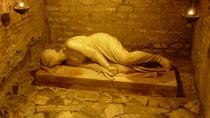 1 Review
Be escorted through Rome's atmospheric walkways and tunnels, and be transported back in time by your enthusiastic guides. Discover Rome's eerie past through ... Read more
Location: Rome, Italy
Duration: 3 hours 30 minutes (approx.)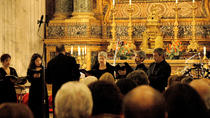 For one of the most unusual events in all of Rome join us in the Church of S. Maria Immacolata for a Christmas Baroque Concert and a tour of the famous ... Read more
Location: Rome, Italy
Duration: 60 minutes (approx.)
70 Reviews
Discover Rome's ghostly sights and hidden delights with this Super Saver that combines two quirky tours at one discounted price. In the afternoon, set off on a ... Read more
Location: Rome, Italy
Duration: 8 hours (approx.)
3 Reviews
Follow your guide into the realm of death: fascinating Necropolis of Rome! On this 3.5-hour tour (Am or PM time slots are available) you will explore: Roman ... Read more
Location: Rome, Italy
Duration: 3 hours 30 minutes (approx.)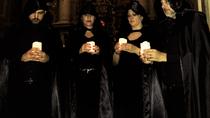 1 Review
While in Rome, enjoy this 70-minute experience at the Capuchins Crypt, Church, and Museum. First, take a tour with an art historian guide in a group limited to ... Read more
Location: Rome, Italy
Duration: 70 minutes (approx.)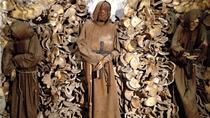 3 Reviews
This tour is a unique and exclusive collaboration that allows you to explore the ancient catacombs with your small group of 6 people, your guide, a few ... Read more
Location: Rome, Italy
Duration: 3 hours (approx.)