Palazzo Valentini Domus Romane (Le Domus Romane di Palazzo Valentini) Tours
Palazzo Valentini, built in the 16th century, is the seat of Rome's Provincial Administration. When archaeologists were renovating the building in 2005, they discovered ruins of ancient villas underneath the building. What they uncovered was the Domus Romane, a 20,000 square foot complex with two 4th century AD patrician villas and the remains of a private thermal bath situated next to Trajan's Forum in the heart of Imperial Rome. The 16th-century builders filled in the site and unwittingly preserved the ruins. After years of excavations, the site is now open to the public. 
The site is well-preserved, and visitors can still see staircases, frescoes, beautiful mosaics, and inlaid marble floors. Using multimedia, the ruins come alive with sophisticated light shows that recreate what the villas would have looked like. Visitors can get a glimpse into ancient Roman life by touring the Domus Romane. 
Practical Info
Le Domus Romane di Palazzo Valentini is located at Via IV Novembre, 119A near Piazza Venezia.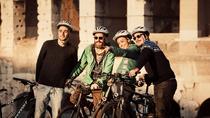 819 Reviews
Enjoy the best of Rome on a four-hour bike tour with a local guide. Cycle through Rome, discovering its ancient monuments, fancy shopping streets, beautiful ... Read more
Location: Rome, Italy
Duration: 3 hours (approx.)