Ponza Island Tours
Ponza is the main island in the Pontine archipelago off the coast of Italy.  It is famous for its blue grottos, and is fabled to be the island of the sorceress Circe described in Homer's Odyssey.  Clear azure waters provide excellent swimming, including the Piscine Naturali, which consists of saltwater pools formed by ancient volcanic activity.  There are numerous beaches to relax on, the most popular being Chiaia di Luna.  Cobblestone roads wind through a small, laid-back town center, and colorful homes and shops dot the hills overlooking the sea.  
Tucked away from the coast and away from much else, Ponza is still considered to be a bit of a secret.  Many say that the best way to see it is from the water, admiring its jagged cliffs and exploring its grottos and caves by boat.  Eating freshly caught seafood once back on land may equally be a highlight.
Practical Info
Ponza is located 21 miles off Italy's coast in the Tyrrhenian Sea. Ferries bound for the island leave from Naples, Terracina, Formia, and Anzio. It is about a two hour drive (and boat trip) from Rome.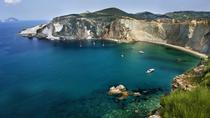 37 Reviews
Relax on a full-day excursion from Rome to Ponza Island with ample time to swim and shop. Swim in the azure sea, eat a fresh 'mariner's style pasta' lunch, sip ... Read more
Location: Rome, Italy
Duration: 13 hours (approx.)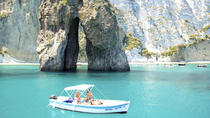 Explore the truly off-the-beaten track island on Ponza on this swimming, snorkeling and exploring day trip from Anzio! Mysterious grottoes, stunning views and ... Read more
Location: Anzio, Italy
Duration: 12 hours (approx.)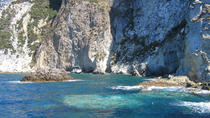 Ride a fast ship from Terracina to Ponza Island, then take a Ponza mini cruise in group on a tourist motorboat. You will have a panoramic tour of the south ... Read more
Location: Ponza, Italy
Duration: 10 hours (approx.)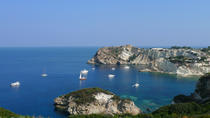 This 10-hour tour combines a fast boat ride from Terracina to Ponza Island, plus a tourist motorboat ride around Ponza and Palmarola Islands. You will have a ... Read more
Location: Ponza, Italy
Duration: 10 hours (approx.)