235 Reviews
Address:

Italy

Hours:

Open daily 9am - noon and 2pm - 5pm

Admission:

€8 - 14 per adult
Roman Catacombs
Catacombs are ancient underground cemeteries; the catacombs here in Rome were mainly used by Christians (and occasionally Jews) from the 2nd to the 5th centuries AD. At the time underground burial was popular due to the high price of land, and for the sense of community it gave. For persecuted Christians in pre-Christian Rome, underground burial meant they were free to worship their Biblical martyrs and prophets, and to display Biblical iconography (a big no-no in the Roman era).

Because burial within Rome's walls was forbidden by law, all of the city's catacombs are located on the outskirts of modern Rome, typically along major roadways (two ancient catacombs, for example, are located along the Appian Way).
Practical Info
There are five major catacombs in Rome that are open to visitors. St Sebastian and St Callixtus catacombs are both on the Appian Way (via Appia Antica). The catacombs of St Agnes are on Via Nomentana, those of Priscilla are on via Salaria, and the catacombs of Domitilla are on via delle Sette Chiese.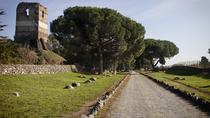 381 Reviews
Travel along Rome's ancient Appian Way and explore its ancient aqueducts, Catacombs and countryside on this 3-hour tour. Escape the city's hustle and bustle to ... Read more
Location: Rome, Italy
Duration: 3 hours (approx.)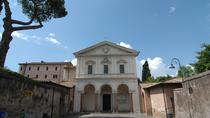 13 Reviews
Discover a secret world beneath the streets of Rome on this 3-hour small-group tour of the Catacombs of St. Sebastian. Travel along the Appian Way, one of the ... Read more
Location: Rome, Italy
Duration: 3 hours (approx.)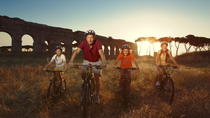 263 Reviews
Explore rural Italy and discover ancient Roman ruins on this 6-hour Appian Way, catacombs and Roman countryside electric bike tour. Cycle the ancient Appian ... Read more
Location: Rome, Italy
Duration: 6 hours (approx.)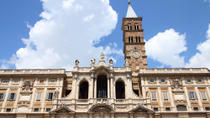 161 Reviews
Explore the highlights of early Christian Rome on this 3-hour coach and walking tour. With an expert guide, visit the magnificent Basilica of Santa Maria ... Read more
Location: Rome, Italy
Duration: 3 hours (approx.)
This world-first walking tour takes you into the Catacombs after dark, introducing you to one of Rome's most important cities of the dead. You'll also get to ... Read more
Location: Rome, Italy
Duration: 2 hours 30 minutes (approx.)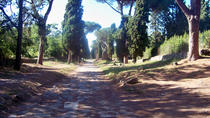 Explore the ancient Appian Way by bike, and pedal along cobbles laid by the Romans many millennia ago. As you follow a guide, you'll learn about the history ... Read more
Location: Rome, Italy
Duration: 6 hours (approx.)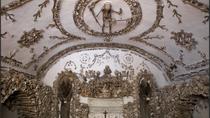 1942 Reviews
Discover Rome's hidden delights and quirky sites on a 3.5-hour walking tour of the underground catacombs, Capuchin Crypt and the Basilica of San Clemente. The ... Read more
Location: Rome, Italy
Duration: 3 hours 30 minutes (approx.)
49 Reviews
Discover Rome's ghostly sights and hidden delights with this Super Saver that combines two quirky tours at one discounted price. In the afternoon, set off on a ... Read more
Location: Rome, Italy
Duration: 8 hours (approx.)
Learn the stories behind the grand monuments of Rome, discover the Colosseum, the Roman Forum & Palatine Hill and finally the mysterious Catacombs
Location: Rome, Italy
Duration: 8 hours (approx.)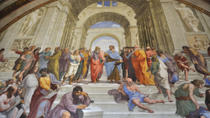 1098 Reviews
Enjoy a morning or afternoon of Vatican splendor on a 2-hours skip-the-line tour of the Vatican Museums, Sistine Chapel and St Peter's Basilica. Explore the ... Read more
Location: Rome, Italy
Duration: Varies