4615 Reviews
Address:

St Peter's Square, Vatican City 00120, Italy

Hours:

Mon–Sat 9am–6pm

Admission:

Adults €16, Children €8
Sistine Chapel
A glorious homage to the Renaissance and acclaimed by many as Michelangelo's masterwork, the Sistine Chapel offers a suitably regal backdrop for the Papal Conclave (the meeting of the Cardinals to elect a new Pope) and a top experience in Rome.
The world-famous chapel, located inside the Pope's residence in the Vatican, was commissioned by its namesake Pope Sixtus IV in 1473. The design of architect Giovannino De' Dolci, the site is adorned with exquisite frescos by Renaissance masters Botticelli, Perugino, and Roselli, but it's the magnificent Sistine Chapel ceiling that demands the most attention—an awe-inspiring series of frescos, painted by Michelangelo between 1508 and 1512. Stretching across the entire 131-foot (40-meter) ceiling, the bold frescos depict the creation of the world and are upheld as a cornerstone of Renaissance art, drawing up to 6 million annual visitors.
Set inside the Vatican Museums, the Sistine Chapel can be visited as part of a guided tour, with an audio guide, or independently. Tours of the Vatican Museums are often combined with a visit to St Peter's Basilica, a walking tour of Vatican City, or a tour of less-visited sites such as the Chiaramonti Museum, the Bramante Staircase, or the Vatican Gardens.
Insider's Tip: To avoid the Sistine Chapel's notoriously long lines, book skip-the-line tickets to the Vatican Museums in advance or choose a tour that allows early or late-night access, when there will be smaller crowds.
Practical Info
The Sistine Chapel is located next to St Peter's Basilica on St Peter's Square in Vatican City and can only be visited as part of the Vatican Museums. The site can be reached via metro line A at station Ottaviana-S. Pietro-Musei Vaticano. The museums and chapel are open Monday to Saturday from 9am to 6pm, and adult admission costs €16. It should be noted that speaking is forbidden in the chapel in order to preserve the art, as talking produces large amounts of damaging humid air. Crowd control and a heating and cooling system work to protect the art.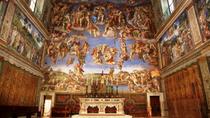 317 Reviews
Visit the Sistine Chapel before the doors are opened to the public, and see its Renaissance treasures without the crowds! After gazing in wonder at ... Read more
Location: Rome, Italy
Duration: 60 minutes (approx.)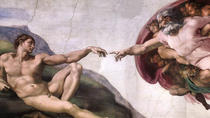 29 Reviews
This skip-the-line ticket provides full-day entry to the Vatican Museums and Sistine Chapel. At your leisure, explore the galleries full of Renaissance ... Read more
Location: Rome, Italy
Duration: Flexible
2 Reviews
Get a full-day access ticket and be ready to live an exclusive experience at the Vatican Museums: see the marvelous Sistine Chapel early in the morning, before ... Read more
Location: Rome, Italy
Duration: Flexible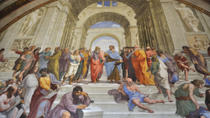 1098 Reviews
Enjoy a morning or afternoon of Vatican splendor on a 2-hours skip-the-line tour of the Vatican Museums, Sistine Chapel and St Peter's Basilica. Explore the ... Read more
Location: Rome, Italy
Duration: Varies
1 Review
This 3 hour private tour allows you the exclusive opportunity to visit the Vatican before entry to the general public accompanied by an expert private guide. ... Read more
Location: Rome, Italy
Duration: 3 hours (approx.)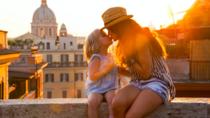 3 Reviews
Discover the Vatican Museums and the Sistine Chapel, housing one of the finest art collections in the world, with this 2-hour family tour. Kids can have fun ... Read more
Location: Rome, Italy
Duration: 2 hours (approx.)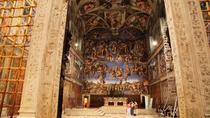 Join this Vatican tour and get after-hours access to one of the most sought after locations in Rome. Experience the splendor and charm of the Vatican Museums ... Read more
Location: Rome, Italy
Duration: 2 hours (approx.)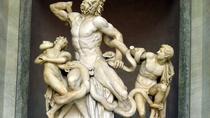 1 Review
This small-group (max 8/10 people) tour combines the main attractions of the Vatican Museums (Sistine Chapel included) with a visit to the Pinacoteca (art ... Read more
Location: Rome, Italy
Duration: 3 hours 30 minutes (approx.)
152 Reviews
During the months of May until October, the Vatican stays open on Friday nights for an extra-special viewing of its renowned museums and the Sistine Chapel, ... Read more
Location: Rome, Italy
Duration: 3 hours (approx.)
Enjoy a private 3 hour tour (max 6 people) of the Vatican Museums including the Raphael Rooms and The Sistine Chapel ending with a privileged entrance to ... Read more
Location: Vatican City, Vatican City
Duration: 3 hours (approx.)