836 Reviews
Address:

Piazza Trento, 5, Tivoli 00019, Italy

Hours:

Hadrian's Villa: 9am to 5 or 7pm daily; Villa d'Este 8:30am to 5 or 7:45pm daily

Admission:

€8
Tivoli (Hadrian's Villa and Villa d'Este)
The Italian town of Tivoli, set just east of Rome, is home to two famous historical sites: the UNESCO-listed Villa d'Este garden and palace complex, and Hadrian's Villa (Villa Adriana), the grand second-century residence of Emperor Hadrian.
An architectural marvel, the lavish Villa d'Este is the lasting legacy of Cardinal Ippolito II d'Este. The site is one of Italy's most impressive garden complexes, with the hilltop villa set amid four hectares of manicured lawns, idyllic terraces, and dramatic water features that include some 64 waterfalls, 364 jets, and 2,870 feet (875 meters) of canals. Visitors are free to stroll the gardens, take in the views from the Vialone terrace, and admire highlights such as the Hundred Fountains and the Oval Fountain. The villa, including the fresco-decorated apartments of the Cardinal, can also be toured.
A masterpiece of Roman, Greek, and Egyptian architecture, the sumptuous Hadrian's Villa, is one of the greatest estates of ancient Rome. The UNESCO-listed ruins retain their air of grandeur, with temples, state rooms, libraries, and thermal baths dotted over an immense 120 hectares. Highlights include the Maritime Theatre, set on a man-made island at the center of a round pool; the grand Piazza d'oro; the remarkably preserved Imperial Palace; and the Canopus, a replica of the sanctuary of Serapis near Alexandria.
The easiest way to visit the ancient ruins of Hadrian's Villa and the Renaissance-era Villa d'Este is on a half- or full-day tour from Rome.
Practical Info
Tivoli is set about 19 miles (30 km) esat of Rome and can be reached from the city by train on the Roma-Pescara line or by bus from the Ponte Mammolo metro station. Hadrian's Villa is open from 9am to either 5 or 7pm (depending on season), while the Villa d'Este is open from 8:30am to either 5 or 7:45pm (depending on season). Admission costs €8 for each site.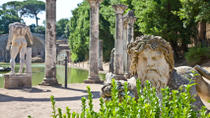 815 Reviews
Discover two UNESCO World Heritage Sites, Villa d'Este and Hadrian's Villa, on a guided full-day trip to Tivoli from Rome. You'll learn interesting Renaissance ... Read more
Location: Rome, Italy
Duration: 7 hours (approx.)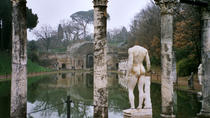 17 Reviews
Enjoy a day away from the hustle of the city and join this 7.5-hour day trip out of Rome to discover the famous Hadrian's Villa and Villa d'Este. Step back in ... Read more
Location: Rome, Italy
Duration: 7 hours 30 minutes (approx.)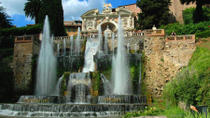 728 Reviews
Visit Tivoli on a half-day trip from Rome and explore its two UNESCO-listed villas – Hadrian's Villa and Villa d'Este – with an expert guide. Have your camera ... Read more
Location: Rome, Italy
Duration: 4 hours (approx.)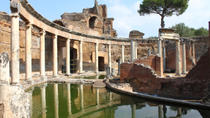 12 Reviews
Visit Tivoli, an ancient resort area famed for its beauty and its good water, enriched by many Roman villas, the most famous one, of which the ruins remain, is ... Read more
Location: Rome, Italy
Duration: 5 hours (approx.)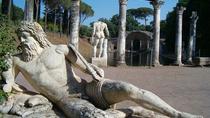 4 Reviews
The tour starts from your hotel, a comfortable minivan will take you to know this wonderful historic city located to the east of Rome, immersed in the ... Read more
Location: Rome, Italy
Duration: 5 hours (approx.)
Visit the UNESCO World Heritage sites of Hadrian's Villa and Villa d'Este on this 5-hour tour from Rome. You will enjoy these ancient villas of Tivoli ... Read more
Location: Rome, Italy
Duration: 5 hours (approx.)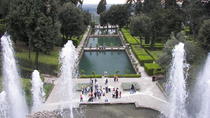 Tour the Villa d'Este on a day trip from Rome. Villa d'Este was commissioned by the Cardinal Ippolitto II d'Este and constructed by the Neapolitan architect, ... Read more
Location: Rome, Italy
Duration: 4 hours (approx.)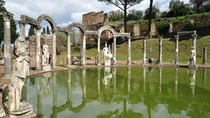 2 Reviews
UNESCO World Heritage Site since 1999, Hadrian's Villa includes an immense park, encompassing nearly 250 acres, ruins, thermal structures, a theater, temples, ... Read more
Location: Tivoli, Italy
Duration: 2 hours (approx.)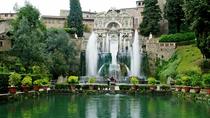 2 Reviews
Spend a full day exploring the beauty of Tivoli with this private 7-hour tour from Rome. See the Villa d'Este and Villa Adriana with their beautiful ... Read more
Location: Rome, Italy
Duration: 7 hours (approx.)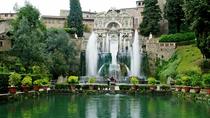 2 Reviews
Embark on this 6-hour private tour of Tivoli and Villa D'Este with just your party and a professional English-speaking driver. Spend time visiting the area and ... Read more
Location: Rome, Italy
Duration: 6 hours (approx.)